UPDATE: New information for second summer race clinic
When: Sunday July 25th 9am
Where: Meet at Marina
Schedule:
9:00 am Start of Morning Sailing Sesson: Please be rigged and ready. We want to head out to the racing arena in front of the little sandy beach area diagonally across from big island. Please COME EARLY and rig your own boats.
12:30 Lunch and chalk talk: Parents, please send your kids with $8 for Nino's Pizza. Please pack lunch and lots of water for your sailor. We will come to Phillip's house for a chalk talk and lunch break inside the air conditioning with lots of ice and water.
1:30pm Afternoon sailing session: Our goal is to be finished around 4:30pm. However, we want to get in at least 6 races and some start practice. Meg will text updates from the sailing arena.
Est 4:30pm: Parent pick up. Meet at marina fo 15 min wrap up with parents. CLEAN UP! Sailors must help coaches clean up the marina and boat shed. We cannot leave a mess, and cannot expect the coaches to clean up after us! This means de-rigging your boats, rolling up sails, and picking up all garbage, bagging garbage, putting new bags in garbage can, lining up boats, putting centerboards and rudders in the shed.
Racing Clinic for the sailors interested in the Manteo Regatta
Hatteras Sailing is hosting a special race clinic Sunday July, 18th. Jay, Nathan, and Meg will be coaching sailors in front of the sandy beach from 9am to 12:30pm and again from 1pm to 4:30pm. The sailors will be practicing the race course and sailing instructions they will be sailing in the upcoming Manteo regatta. .
When:
Sunday July 18th, 9am-12:30pm, break, 1pm – 4:30pm
Where:
meet at marina, race clinic will be held at our marks in front of the sandy beach.
Sailors (8):
Noah Phillips
Max Cyrrist
Joey Lettieri
Conner Hakola
Beau Phillips
Hunter Wompierski
Noah Hammack
Ella Snead
Spectator Boats:
Both Stiletto Catamarans will be positioned nearby for spectators and parents. We've got a giant new cooler which we can fill up with ice. Plan to stay for the whole session or plan a way back to the dock. Parents and sailor spectators can ride out on Stiletto.
Snacks and drinks for sailors and coaches are appreciated. If you can bring some, please comment on this post.
Anyone with a kayak or paddle board is invited to come watch and learn what sailboat racing is all about.
Coaches boats:
Little Tender: We will launch the little tender, but can use any additional jet skis or powerboats that can be available for the clinic.
Other Powerboats: If you have and can offer another powerboat or jetski, please reach out to us.
Kayaks & Paddleboards: could work if we stick one coach at each mark and they do not need to move around with the sailors.
Race Course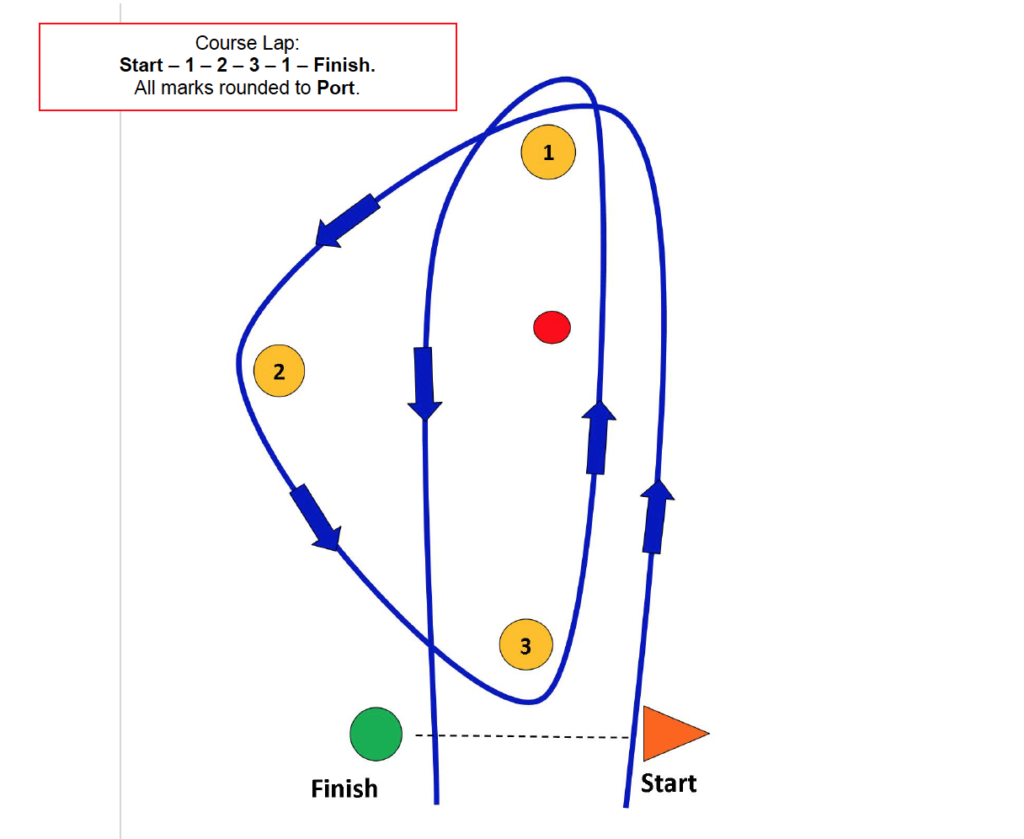 Parents of Sailors
Pack lots of drinks, snacks, and lunch for your sailors. Sunscreen, hats, and sunglasses are a requirement. It will be a long, hot, fun day in the sun.