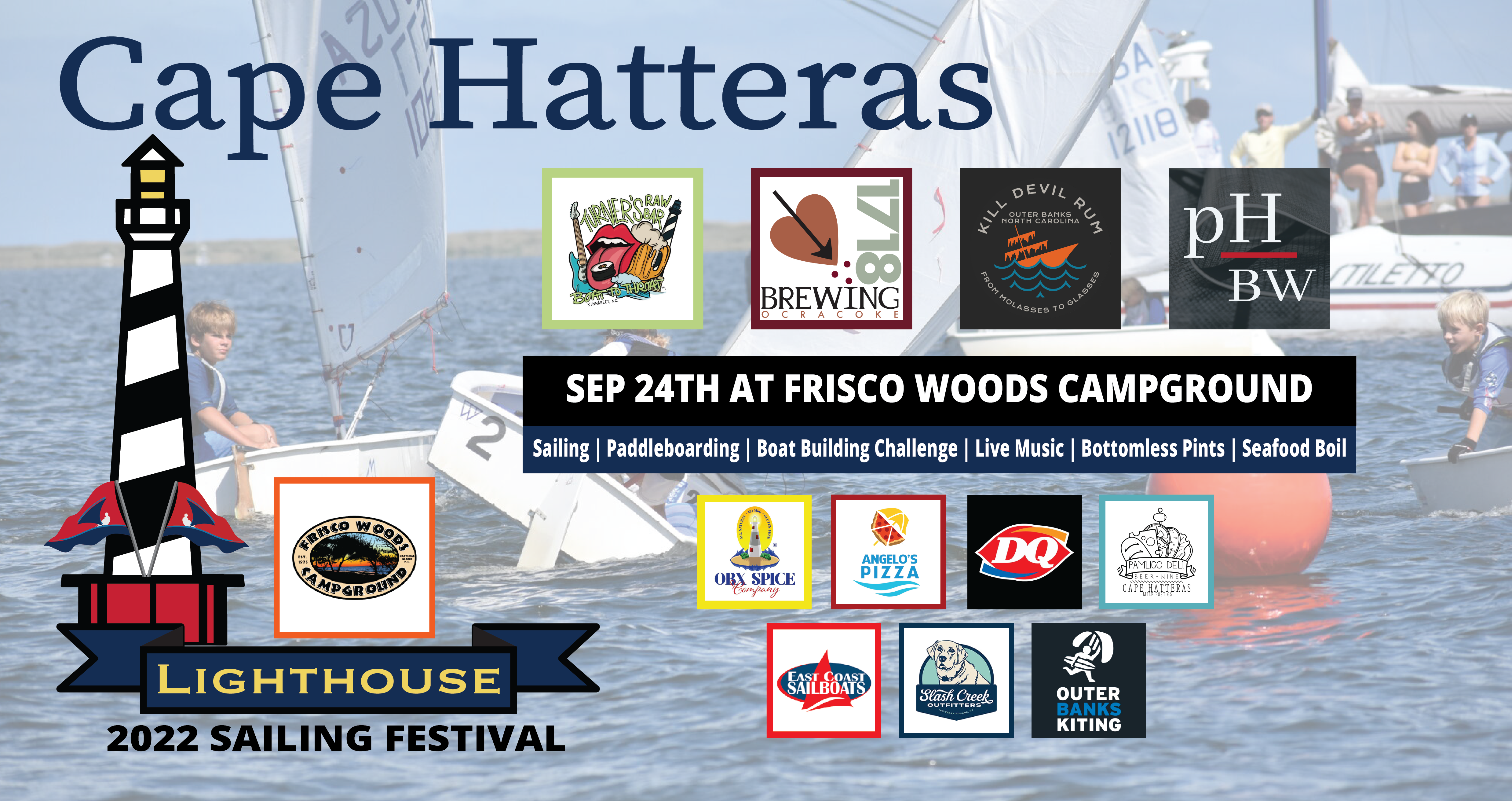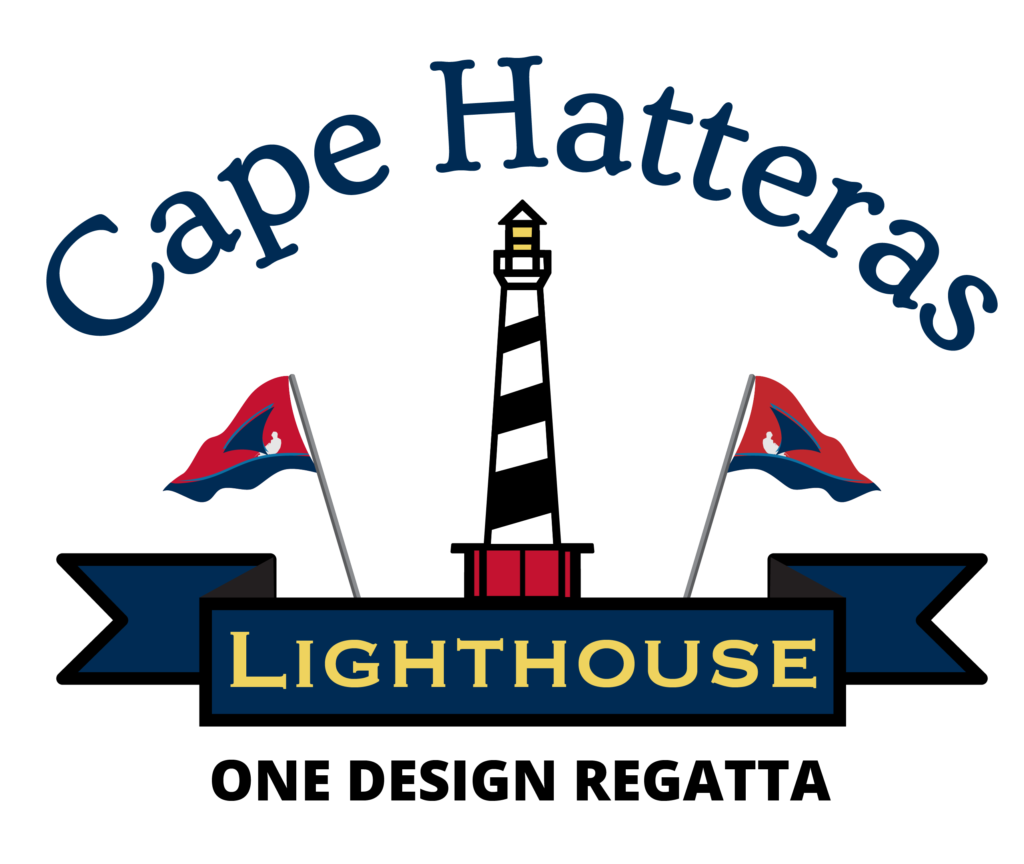 Cape Hatteras Lighthouse One Design Regatta Registration
2nd Annual Cape Hatteras Lighthouse Sailing Festival
A celebration of the beauty and history of the Cape Hatteras Lighthouse. Enjoy legendary surfing and sailing amid jaw-dropping views of the East Coast's most iconic lighthouse. This memory making festival weekend is jam-packed full of sailing, surfing, great food, and top notch entertainment. Check out the schedule for sunset sails, surfing, beach bonfire party, sailboat racing, a band party, & a low country boil.
All events and racing are open to the public – Hatteras Islands locals and visitors are welcome. Please come out and help us celebrate the beauty and history of Cape Hatteras Lighthouse. Learn a little about competitive sailing, and cheer on your local Hatteras Sailors.
The weekend's festivities are being hosted by Frisco Woods Campground. Reserve a cabin, tent sites, or RV site and enjoy the full service facilities including a pool, pavilion, and more. Other lodging options are available. This is the perfect end-of-season regatta getaway weekend designed with something for everyone. Adults and juniors are invited to participate in all the fun activities.
Register for all sailing festival activities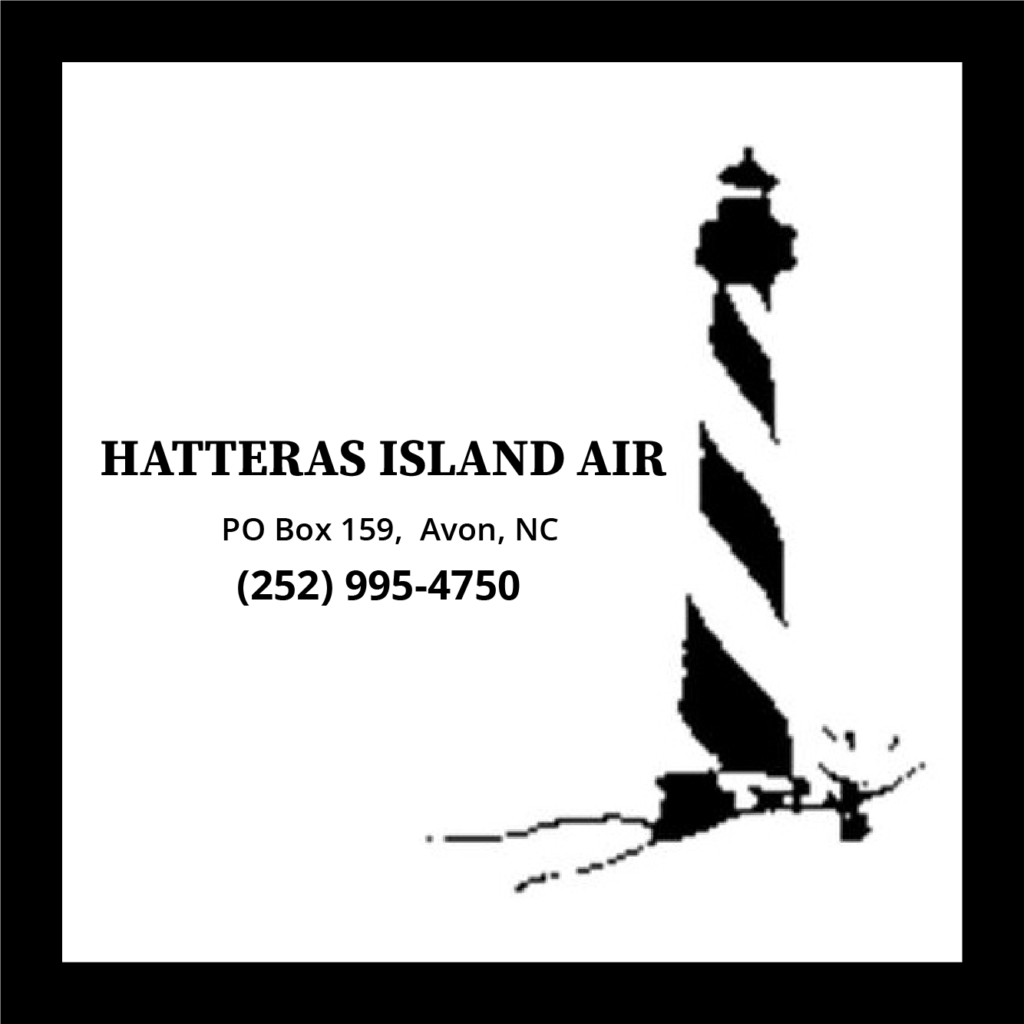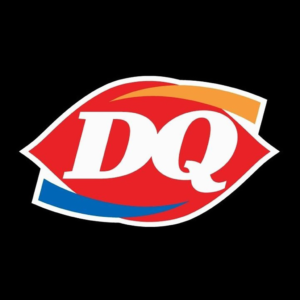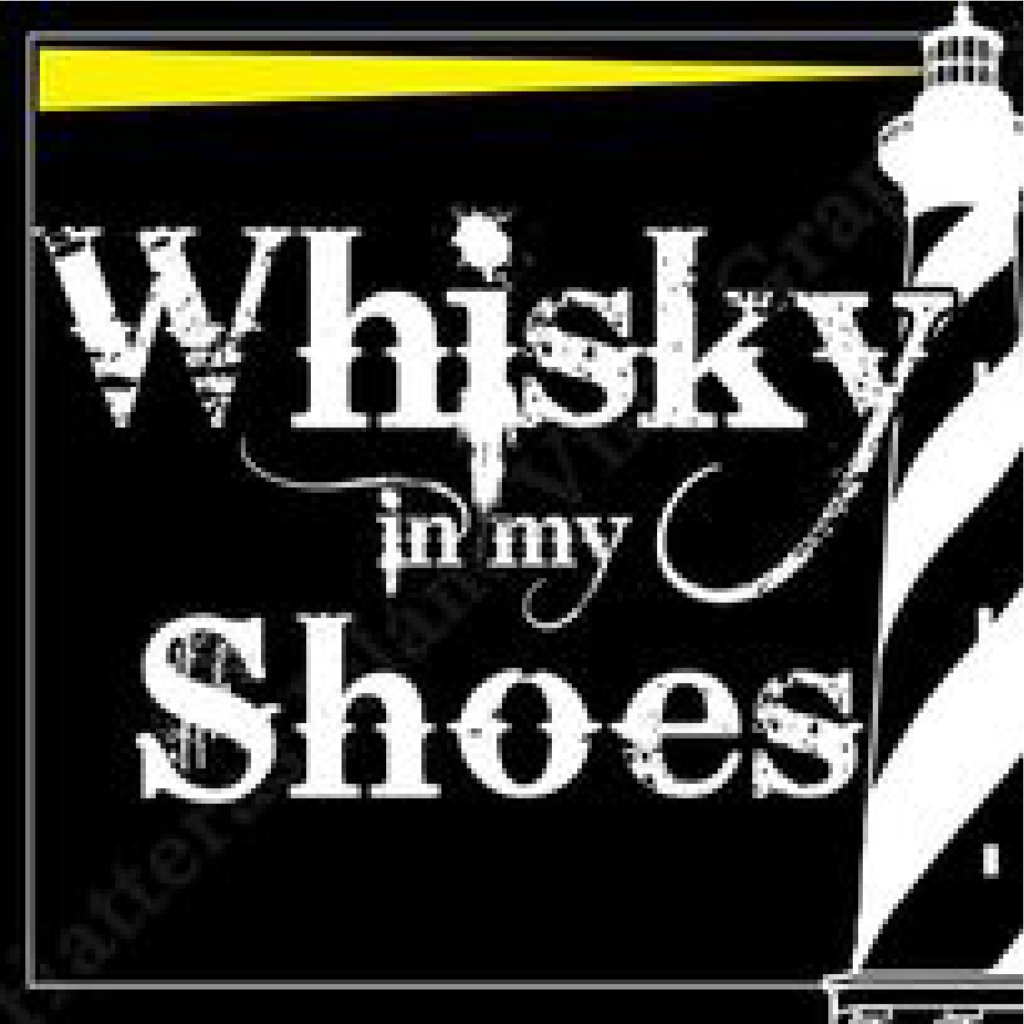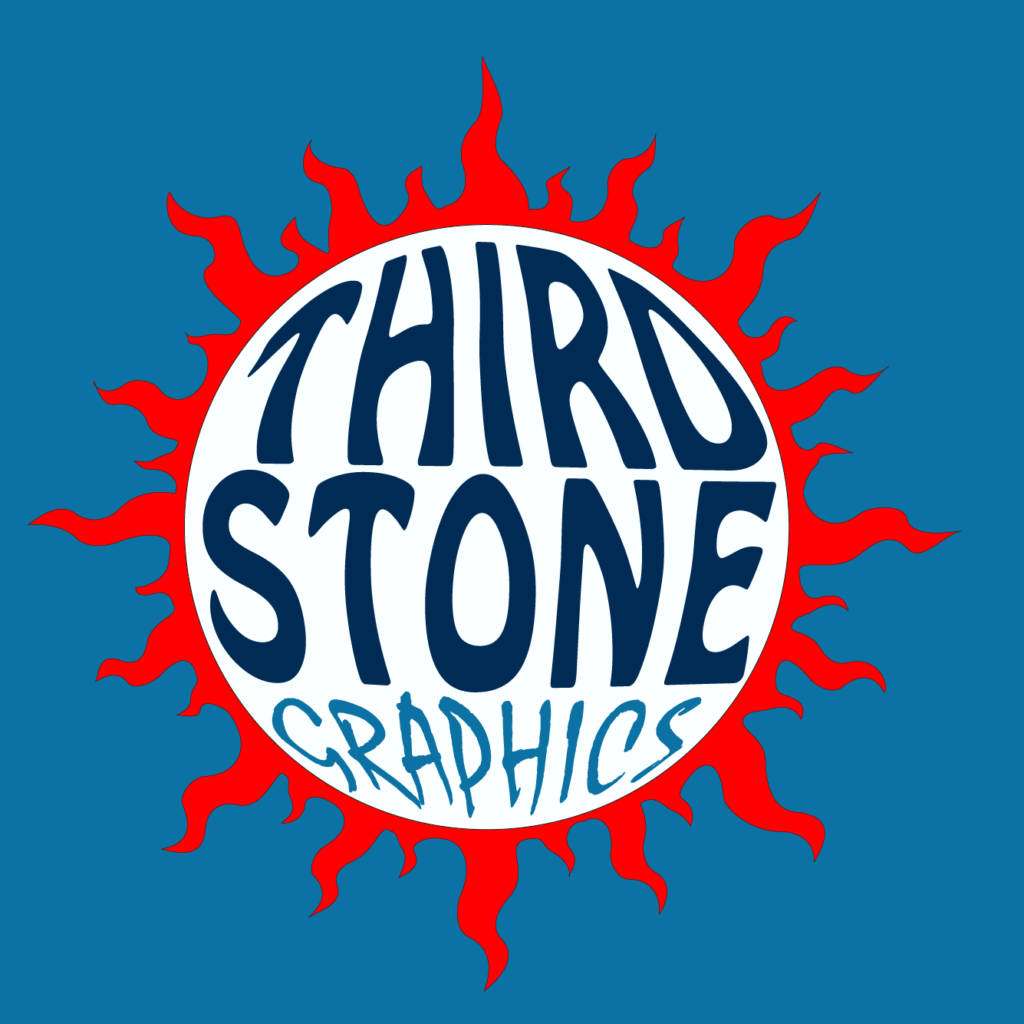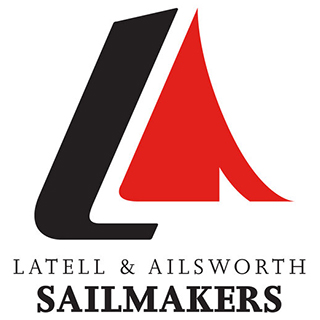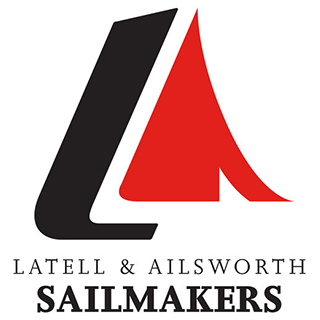 Parties, Swag, Food, & Fun
All the fun is open to the public. Please come out and support our local sailors, learn more about the Cape Hatteras Lighthouse, and have a blast. All proceeds benefit the local community sailing program here at Hatteras Community Sailing. You do not need to be a member to attend, join in, watch the racing, or join the parties.
Friday Activities
Saturday Activities
Sunday Activities
Swag
Racing Registration
Register for everything with a registration bundle. You can add dinner tickets, extras, and shirts for your family members by just buying those things separately from above. If you want to register for just sailing only, that option is available on the class registration page.
Early registration ends Aug-20, 2022
Registrations after Sep-10, 2022 are non-refundable
Registration closes Sep-22, 2022 at midnight.
So What's In The Bundle?
Sailing Registration
Regatta Sweatshirt
Ice Cream Treat at the Bonfire
Sat Breakfast Wraps, fruit, juice, coffee
Sat Pizza Lunch
Sat Low Country Boil
Sat Band Party & Bottomless Pint
Sun pastry, fruit, juice, coffee
Don't see your class ?
If you are interested in opening another class, please complete the waiting list form here and when 5 boats come together we will open that class registration.
Multihulls are great!
We will have a multihull triangle course for the Hobie 18s, and Hatteras is a particularly fun place to race multihulls. Our courses are not suitable for boats drafting over 3 feet draft.
Monohulls are tough!
We have a shallow cruising ground so, if you are eager to race your monohulls, they need to be very shallow draft…less than 3 feet for this regatta.
Don't have a boat to sail?
Charter one of our extra C420 and Optimist sailboats during our hosted events.
Request a new class
Complete this form and be sure to tell us if you are able to bring more than one boat. We ask 5 in a class before we can open the class.
Registrations & Results
Club 420
Skipper / Crew
Sail #
Club
R1
R2
R3
R4
R5
R6
R7
R8
R9
R10
Net
Ranking
Sarai Bullock (s)
Maddie Ballard (c)
3369
Hampton (HYC)
5
1
3
2
(7)
2
3
3
1
1
21
1
Noah Phillips (s)
Max Syrrist (c)
Bow 4
Hatteras (HCS)
9
9
(12)
8
6
5
5
7
2
4
55
6
Toby Fleckenstien (s)
Matt Fleck (c)
Crab 7
Manteo
7
8
9
4
10
1
2
2
DNF
(DNS)
58
9
Sawyer Fleckenstien (s)
Sarah Marshall (c)
6006
Manteo
14
ocs
13
13
14
DNF
DNS
DNS
DNS
(DNS)
129
14
Dagney Finger (s)
Nevan Brookins (c)
0401
Carolina Yacht Club (CYC)
13
13
14
14
13
DNF
DNS
DNS
DNS
(DNS)
127
13
Ryden Jarvis (s)
Sam Warner (c)
9068
Carolina Yacht Club (CYC)
12
12
11
(12)
4
7
9
8
9
10
82
12
Johnathan Clubbs (s)
Carter Trowbridge (c)
7
New Bern ETYSA
1
2
4
1
1
(8)
6
4
4
3
26
2
Emma French (s)
Fiona Sommers (c)
35
New Bern ETYSA
10
5
1
(11)
2
6
7
6
8
7
52
4
Dylan Barbour (s)
Wesley Barbour (c)
51
New Bern ETYSA
3
6
7
3
3
(DNF)
9
11
6
8
56
8
Howard Maye (s)
Aiden Hansen (c)
1861
New Bern ETYSA
4
11
10
5
(11)
4
1
1
3
2
41
3
Chase Fidgeon (s)
Izzy humphreys (c)
11
New Bern ETYSA
11
3
6
10
(12)
10
10
10
10
9
79
10
Owen O'rourke (s)
Colin Jee (c)
3
RTP High School Sailing
2
4
8
7
5
11
(11)
9
5
5
56
7
Lottie Pare (s)
Audrey Drabenstott (c)
2
RTP High School Sailing
8
7
5
(9)
8
3
4
5
7
6
53
5
Mimi Pare (s)
Tori Pare (c)
1
RTP High School Sailing
6
10
2
6
9
9
8
DNF
DNS
(DNS)
80
11
Optimist
| | | | | | | | | | | | | | | |
| --- | --- | --- | --- | --- | --- | --- | --- | --- | --- | --- | --- | --- | --- | --- |
| Skipper / Crew | Sail # | Club | Division | R1 | R2 | R3 | R4 | R5 | R6 | R7 | R8 | R9 | Net | Ranking |
| Beau Phillips | 10677 | Hatteras | Green | 4 | 2 | 1 | 4 | (DNF) | 2 | 3 | 3 | 3 | 22 | 2 |
| Seaton Hawpe | 8594 | Hatteras | Green | 9 | 10 | 10 | 11 | 4 | 6 | 6 | 4 | 6 | 56 | 7 |
| Ellis Gaskins | 16454 | Hatteras | Green | 8 | 8 | 4 | 9 | DNF | DNS | DNS | DNS | DNS | 77 | 10 |
| Katarina Penosky | 8 | Hatteras | Green | 11 | ocs | 11 | 10 | R | DNS | DNS | DNS | DNS | 92 | 11 |
| Ford Sumner | 16743 | Hatteras – (Team Ocracoke) | Green | 7 | 3 | 7 | 7 | 5 | 5 | 5 | 5 | 5 | 42 | 5 |
| Gunner Shilling | 11564 | HYC | Green | 3 | 5 | 6 | 2 | R | DNS | DNS | DNS | DNS | 64 | 8 |
| Mary Margaret Dick | 9818 | HYC | Green | 5 | 9 | 8 | 5 | R | DNS | DNS | DNS | DNS | 75 | 9 |
| Madeline Oubre | 33 | HYC | Green | 10 | 7 | 9 | 8 | 2 | 3 | 4 | 6 | 2 | 41 | 4 |
| Xavier Assis | 1455 | HYC | Green | 1 | 1 | 2 | 1 | 1 | 1 | 1 | 1 | 1 | 8 | 1 |
| Madeline Montheith | 22414 | HYC | Green | 2 | 6 | 3 | 6 | 3 OCS | DNS | DNS | DNS | DNS | 56 | 6 |
| Jacob Oubre | 111 | HYC | Green | 6 | 4 | 5 | 3 | DNF | 4 | 2 | 2 | 4 | 30 | 3 |