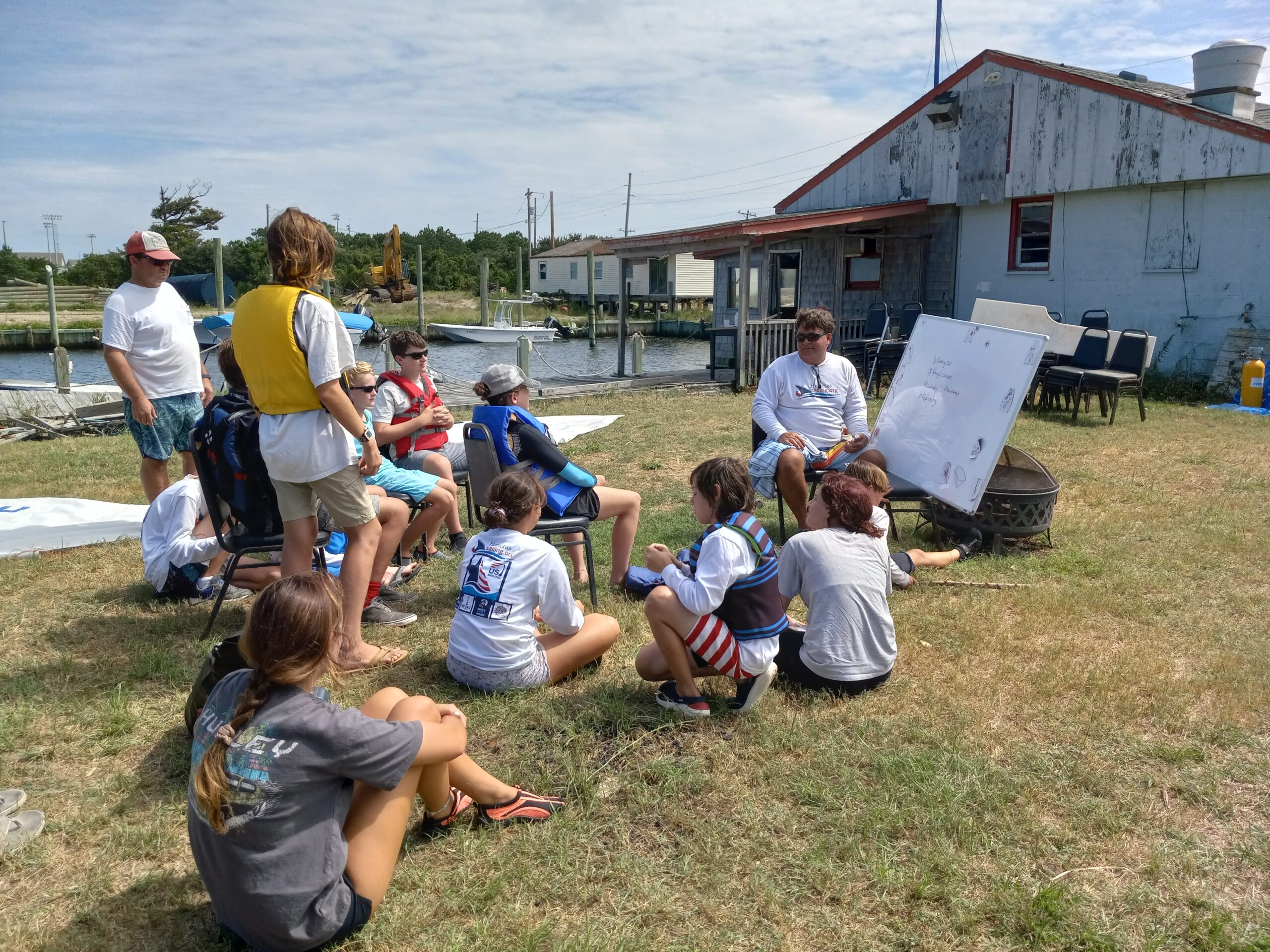 About Us
Hatteras Sailing Organization
Hatteras sailing organization is a NC non-profit corporation and a US Sailing Community Sailing foundation and is establishing registration as a 5013(c) US registered non-profit corporation.
Hatteras Community Sailing (HCS) exists to inspire Cape Hatteras residents and visitors to independence, lifelong seamanship, and a respect for nature. We develop sailing and racing skills in a safe, fun, and organized program for adults and youth. HCS sailors demonstrate respect for others, their boats and equipment, and represent Cape Hatteras well in the larger sailing community earning a reputation as generous, friendly, and knowledgeable sailors.
HCS nurtures skilled and confident sailors to be a lifelong credit to Hatteras Community Sailing and the larger Cape Hatteras and Outer Banks Communities. Hatteras Sailing is a volunteer, not-for-profit organization overseen by a volunteer Board of Directors. Coaches are paid market value for coaching time, but are not full-time salaried staff. Please be conscientious regarding the program director and coach's time.
Getting kids outside…
We think it is really healthy to get kids outside and into nature, and we happen to be blessed enough to live on one of the most beautiful islands in the world. Our youth sailing program enjoys year round sailing and diverse wind and sea conditions.
and into nature
Our youth are encouraged to take out the boats as often as they can, to sail together, respect nature, and enjoy our beautiful ocean and sound. We make safety a priority and emphasize having fun.
Board Members
Chairman
Jay Phillips has been sailing professionally for more than 30 years, and has a passion to pass his love for this life-building sport onto new, young sailors. "We can't really spare any effort grounding our next generation to the earth, the sea, and the creator", says Jay on why he founded Hatteras Sailing. "Sailing is a great way to get kids in touch and engaged with their environment"
Vice Chairman
Treasurer
Secretary
Members at Large
Jay Crawford holds a USCG Masters License, 25-ton and a BS in Physical Education/Leisure Services from Winthrop University, South Carolina. Jay has been living, breathing and coaching kiteboarding on Hatteras Island since the early days. Flying Naish product since 1999, Jay has worked with and learned from the pioneers. He spends winters in "Shacks Beach", Puerto Rico, or Heavenly Ski Resort, California, to further expand his teaching knowledge.
Billy Mosley is a long time Nags Head resident, avid sailor, kiter, and windsurfer. He loves Hobie Cat sailing, surfing, and the Outer Banks and is the president of Winward Homes.
Tater Gaskins of Hatteras Island Air
Tater, the owner of Hatteras Island Air, having grown up here on Hatteras feels that sailing is a natural fit for Hatteras and Hatteras Island Youth. "I'm very interested in the physics of sailing. Knots are cool", says Tater. Like Chip, Tater is interested in learning sailing as he mentors his own son, Ellis, in survival skills and outdoor activities.

Hatteras Sailing Organization
48962 NC Highway 12
PO Box 102
Avon, NC 27915
Phone: 252-297-6665
Questions? Contact Us
Thank you to our sponsors
Hatteras Sailing is a sponsor and member supported organization. Thank you to all our local business and individual sponsors.