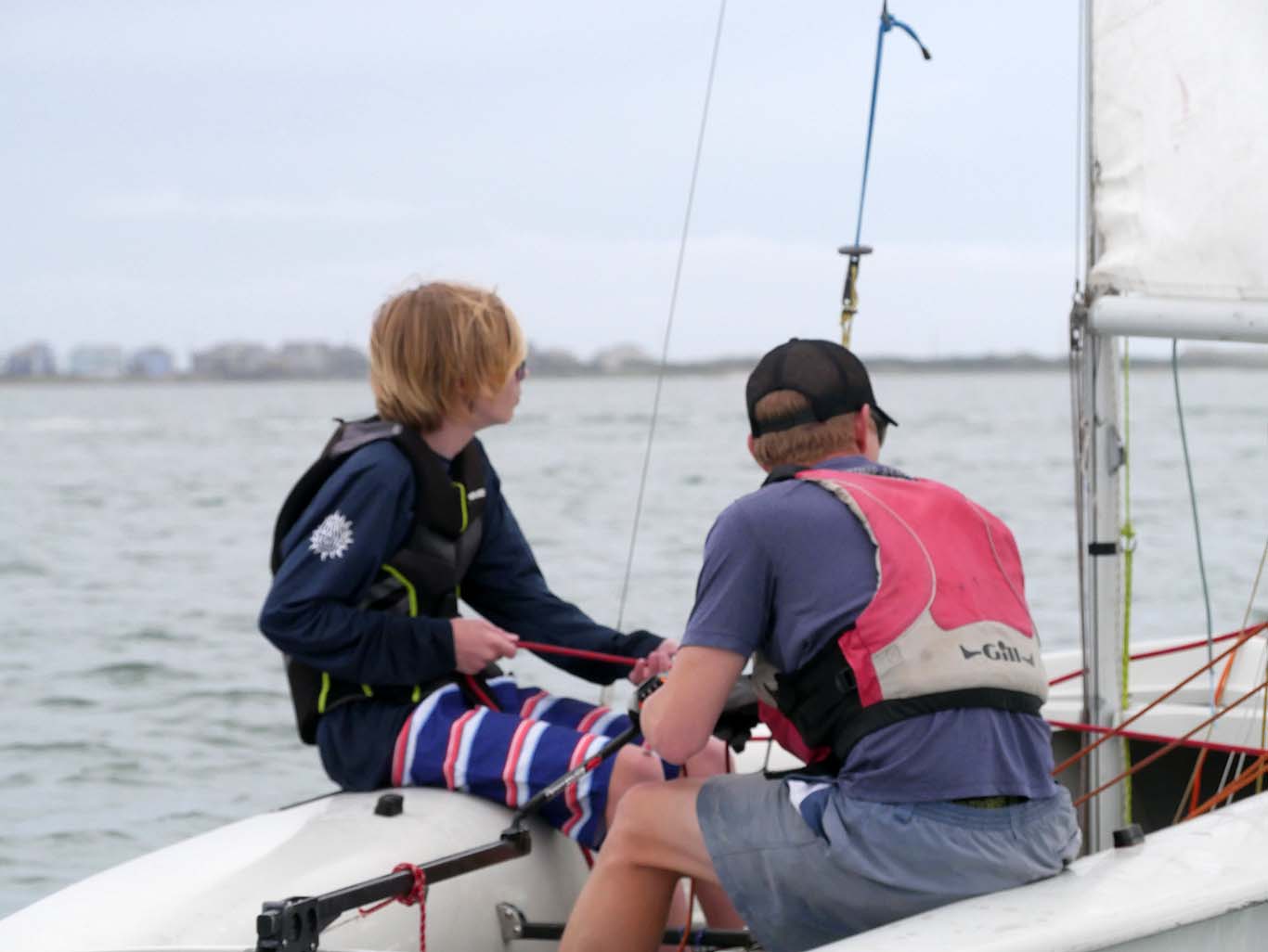 Learn To Sail
Learn to sail on Hatteras Island. We teach youth and adults to sail and offer a variety of options throughout the spring, summer, and fall including open session group camps, semi-private group sessions, and private lessons.
Private Sailing Lessons
Private sailing lessons are perfect if you want to go out sailing, level up your skills, or get an introduction to sailing. We can set up a single introduction to sailing session for 2hrs or you can get a package of 3-Day or 5-Day lessons. 3-Days or 5-Days of lessons are great if you really want to focus on learning to sail while you are here on Hatteras.
We schedule you into the week and then try to find the best weather windows to get you out on the water with an instructor for the best outcome. Normally we teach private lessons in the morning or early afternoon depending on the forecast.
Sailing Camp
Summer 2023 Sailing Camp
The Cape is surrounded with water, the Atlantic Ocean on one side and Pamlico Sound on the other, so our exploration takes us to the water! We use our sailboats and coach boats to take the kids to hidden bayside beaches and sandy clam shoals where they can play in the shallow water and learn to sail. We learn basics of sailing on the same boats our sailing team sail and we get out on the big boats too. A week of jam packed water sports fun.Taught by Hatteras Sailing Coaches and junior sailors as assistant coaches. We learn to sail and have lots of fun with a variety of activities including
exploring
sailing
paddling
swimming
Camp Schedule and Sign Up Links
NOTE: If these dates don't work for you, sign up for Anytime Camp. It just takes four sailors to make a camp. When we have 4, you will receive a payment link from us to confirm your registration.
Aug 7-11
Opti Kids 5-8yrs Old
Anytime Camp For All Ages
Group Sailing Lessons & Private Camps
Group sailing lessons are camp style of learning for private groups up to 4 sailors. Basically, this is a privately scheduled week of camp for groups that are not here on the weeks of camp. Also great if you were not able to register before our camps filled up. The lessons are priced for the whole camp; not per-person. We have one chase, one lead instructor, and usually one assistant/junior coach for each session so the instructor to student ratio is about 2 sailors to 1 instructor. NOTE: minimum 4 sailors required to run the camp.
What if we are not here on the week of sailing camp?
If not going to be here during a week when we are offering a scheduled sailing camp, No Worries! We offer a semi-private sailing camps for up to 4 sailors. Its a smaller group with more individual coaching time. You can learn on Optimist, C420, Hobie 18, or Flying Scot.
What about adult sailing / team building experiences?
We offer adult sailing lessons and team building experiences every week during the summer for up to 4 sailors. We can learn on Flying Scot, Hobie 18, or C420. If you have a larger group, please call us well in advance to set up your session.
What ages do you teach?
We run camps for 8-12 years old; 13-18 years old, or even family groups of mixed ages. We're pretty flexible since this is a semi-private experience, we can help make it what works for your group.
What if I have a large group?
If you have a family group of mixed ages we can still offer semi-private learning sessions. But, please call us well ahead of time to make arrangements. Staffing a camp over 4 sailors requires quite a bit of logistics with multiple coaches and chase boats, etc.
What happened to Cape Explorer Camp?
We realized that we were not able to keep the camps full enough to run open enrollment camps all summer long. The two weeks of camp we are offering in June and July are based on the same format as Cape Explorer Camp, but simplified a little. We will still have lots of fun, do a variety of water based activities, and get an introduction to sailing.
Can I really learn to sail in 3 or 5 Days?
Well, sailors spend a lifetime learning and never learn everything there is to know about sailing. In 3 or 5 days, we focus on introducing key knowledge concepts and getting as much time on the water as possible. The best way to learn is to get involved in sailing on a regular basis all year long.
Little Kiddos: 8-12 years old
Teens, College, Adults