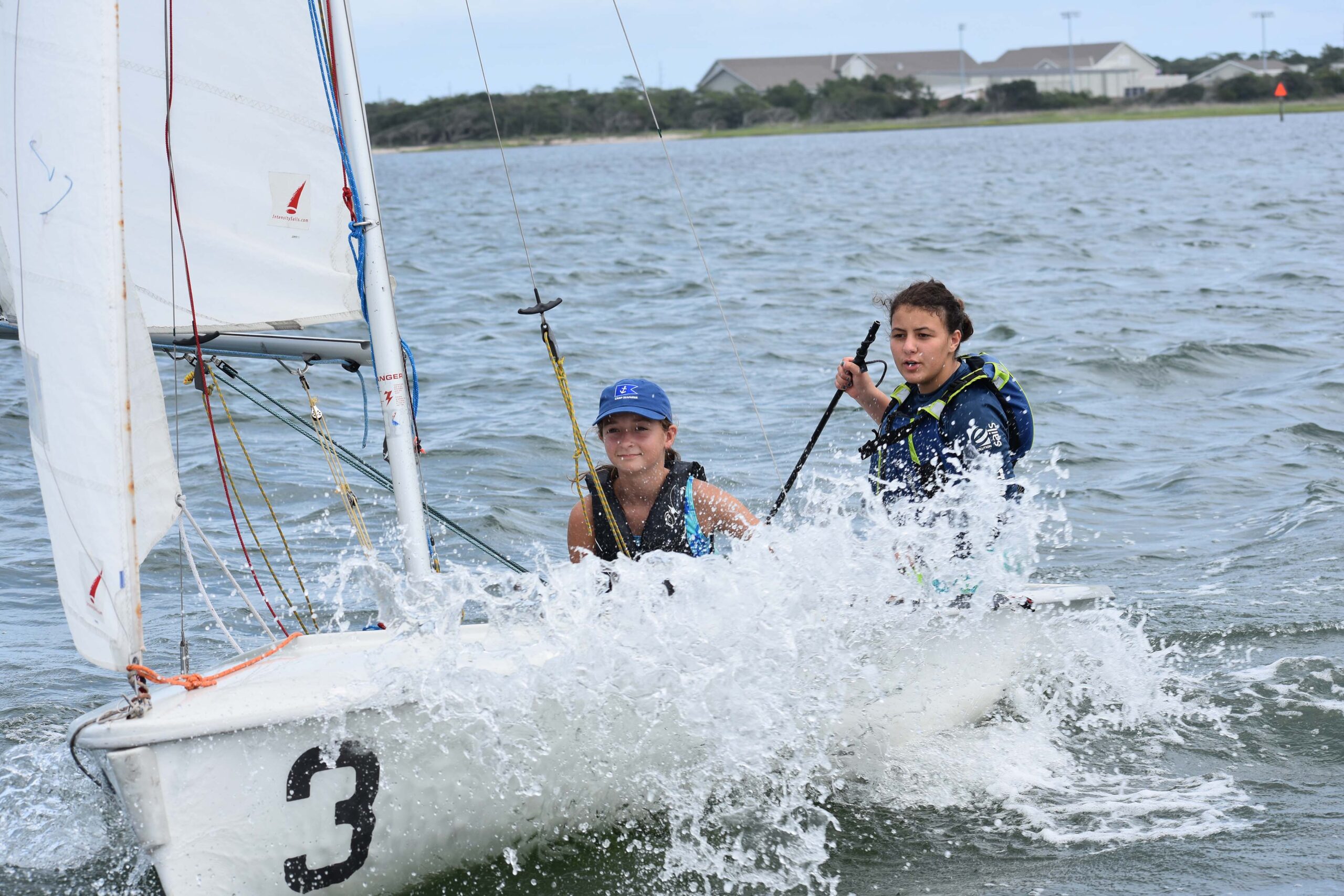 Registration
2023 Spring Sailing (Apr/May)
Spring Registration Deadline: March 31, 2023
Spring 2023 Sailing here on Cape Hatteras is planned to be fun for the whole family. We kick off our season with a Sandbar, Sail, & Socialize party. We will sail, motor, paddle and otherwise meet out on the sandbar out back of the sailing center for a bonfire party with music, snacks, drinks, and fun. Please mark your calendars and register for this fun event. This is a great way to get involved if you've been interested, but never attended one of our events. The big new for Spring 2023 is that we've added a new Adult One Design class – Flying Scot. Regionally, Flying Scot is one of the most active and popular one design groups. So please get excited and set aside your Wednesday evenings for Flying Scot Spring Training as we get ready to sail in our 2023 Wind 'n Waves regatta.
Kickoff Party Tickets will go on sale the last week of March and we'll give you a heads up when to reserve your seat on the big boats.
2023 Summer Sailing (Jun/Jul)
Summer Registration Deadline: May 31st, 2023
Summer Sailing here on Cape Hatteras is all about learning and having fun. We kick off our season with our annual tradition of Sailing Raid style to the Canadian hole on June 10th. So sail, motor, paddle, or drive, but meet us at Canadian Hole for a fun soundside beach day of fun, sailing, food, and friends.
Junior Sailing Camps: Cape Explorer Camp was fun, but a little complicated. Instead, 2023 camp is a half-day camp. Camp will be one week in the beginning of each month: Jun, Jul, and Aug. The idea is to kickstart beginner learning before jumping into regular sailing practice. Camps will be split based on age. Teenagers are offered an Intro To College Sailing and camp for younger ages is Explore Sailing Camp. We're still all about fun, water sports, friend making, and team building for these camps. Registration will be offered through the Fessenden center to residents prior to opening these weeks to visitors and the general public. Register for camp through the Fessenden to get a spot.
Junior's Weekly Sailing: We really think its best to revisit what worked in year's past – everyone loved Saturday sailing practice. This year, we will go back to that simple once per week Saturday practice with Optimists in the morning; 420 in the afternoon. Sunday afternoon will be a make up day for weather cancellations. That is 5 practices leading up to the Manteo Regatta as we did in years past. Regatta is not required, but lots of fun and highly encouraged.
Beginner Collegiate 420 sailors are encouraged to attend camp, but may enroll directly into weekly practice given coach's approval.
Regular weekend practice for Optimist sailing requires mastery of certain basic sailing skills. To get up to speed please enroll in camp, arrange private lessons, or set up a group learning session.
Adults: Sign up for Summer Training on the Flying Scot and get a group together to sail in the Annual One Design Regatta at Fishing Bay Yacht Club on July 22nd. Weekly Flying Scot sailing is for all skill levels. Summer training is set for Thursday night, but if any of the Flying Scot sailors want to organize a casual Wednesday beercan practice in addition to the formal training please reach out to the Program Director and set this up.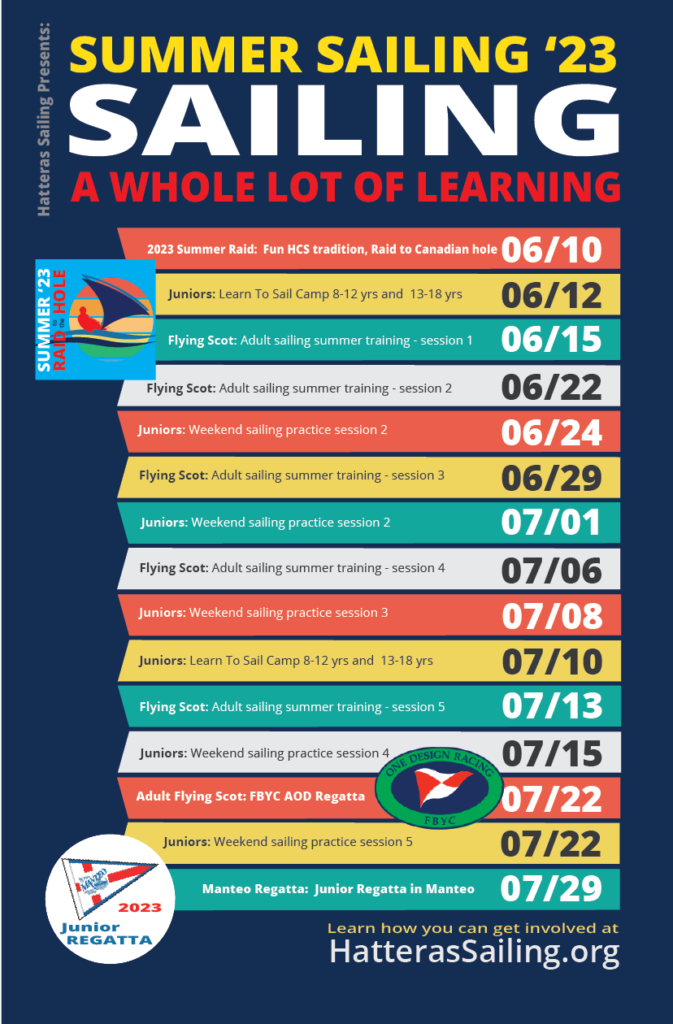 Private Coaching
Private Coaching available for members and non-members on Opti, 420 Class, Hobie 18, and Flying Scot
Not sure sailing is your sport? Give it a try with private coaching or group coaching.
Private coaching is a good idea if your sailor is not comfortable sailing solo in an opti or as a crew member in a 420 and/or when group learning is not ideal for your sailor's next step of learning. One of our coaches will spend 2 hours per session working to build confidence in your sailor. Sometimes, the program director may request that you sign up for private coaching if your sailor is not able to participate and learn in the group setting or is becoming a distraction to other sailors in group class.
Optimist
420 Class
Hobie 18
Flying Scot
Coaching is available for adults and youth sailors on all the club boats. Please contact us if you are interested in sailing instruction while you are visiting Hatteras.
Individual Coaching Sessions
Why do we train for regattas?
Racing is the best way to master sailing skills and gain confidence as your skills improve. Sure – we have alot of fun and there are plenty of opportunities to just go out sailing, but here on Cape Hatteras the wind and waves are unpredictable. If you sail long enough, eventually you will be caught out in conditions that you did not expect or plan to sail. Competing in regattas is a way to stretch your skills in a controlled and managed environment. Racing trains sailors to push themselves and learn the skills needed to sail in a variety of conditions – high wind, low wind, high current, low current, familiar sailing grounds, and new sailing grounds.
Competing is the best way to become a safer and more confident sailor. One design sailing is a lifelong sport that you never outgrow. We make lifelong friendships traveling to regattas. As a junior sailor, you will meet sailors that you'll race against your entire life.
By Invitation Only
Junior Coaching
Private Coaching available for members who are experienced sailors, participate in regattas, and are on the race team
HATTERAS ISLAND YOUTH SAILING
Junior Coaching Program
By Invitation Only; Members Only
Junior Coaching is by invitation only and for experienced sailors. We reccommend that you begin volunteering as Jr. Coach by the time you are 14. The goal of Jr. Coaching is to learn and train to become a certified coach. This is a volunteer apprenticeship designed to train you to succeed once you are old enough (16) to enroll in the US Sailing Level 1 Instructor course. To become a certified US Sailing Level 1 Coach, you need the following skills:
Communication and interpersonal skills
Power boating skills including how to tow junior boats with coaches boat, docking, safe powerboat operation
Club 420 and Opti sailing skills
Your volunteer hours will be logged in the system as volunteer hours and sea time. If you've completed the equivalent number of volunteer hours at minimum wage, Hatteras Community Sailing will reimburse you for all expenses associated with getting your Level 1 instructor certification once you turn 16 years old.
You will also be enrolled in the Charter Crew rotation which is not paid, but earns good tips. Charter captains 'tip out' the mate. These hours are also logged as sea time.