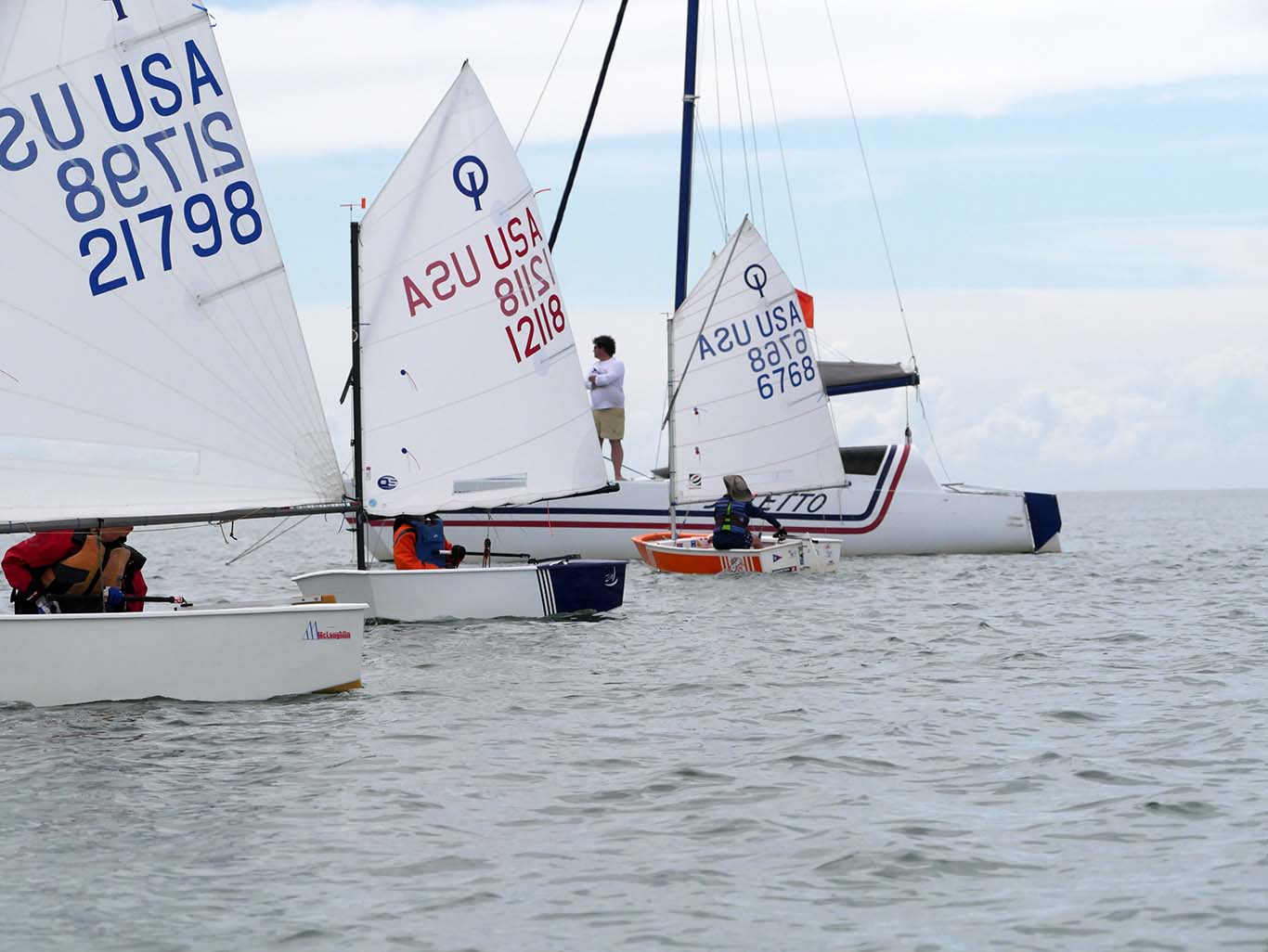 Registration: Junior Sailing
Summer 2022 Registration is open
Registration closes on June 11th
Early registration for Summer 2022 Sailing Classes is now open. Registration is on a first come first serve basis and there are currently 8 spots open for each level. A waiting list is provided on each level for additional interest. Our board will meet to discuss opening more sessions if possible or adding additional boats.
For each group sailing class, we have a program plan that outlines what you can expect your child to learn and the types of activities that each week will cover. At some point, you may also be interested in individual lessons for your sailor if he/she is not keeping pace with the course. Member rates are available for private coaching and sailing group classes.
Beginner Opti is recommended for all sailors who have not yet sailed independently in prior seasons or who have not ever sailed in a regatta. Beginner sailing is focused on becoming comfortable in the water and in the sailboat. If you sailor is not a strong swimmer, beginner sailing will reinforce swimming skills in a group setting that is motivating and fun.
Learn more here about each level of sailing and the options
Online Registration Forms & Fees
Beginner Opti
Beginner sailing is designed to build swimming confidence and comfort in the boats. We focus on fun age-appropriate activities and do not push the sailors too hard. Many will attend beginner sailing for more than one session before they move up. The goal of beginner sailing is to prepare sailors to join the intermediate sailing program with more independent sailing. Beginner sailing is offered in summer and fall only.
Intermediate Opti
Intermediate sailing is for sailors who have passed the sailing swim test and have sailed independently at least one time and enjoyed it. You are not required to have sailed with Hatteras Sailing before. Intermediate sailing is taught on the Optimist class and the sailors sail independently in the boat alone supervised by coaches in a safe and controlled area. They learn basic sailing skills each weekend, and we do so many purely fun activities.
420 Class
The 420 Class is for sailors 12 years and up who are either too tall or too heavy for the Optimist Sailboat. The 420 Class is a two-person sailboat and the same class that is sailed in collegiate sports. This is the class that all high school aged sailors would train on whether they are beginner or more experienced. Both of our coaches sail this class in college. Our head coach has sailed in the national collegiate tournament for the past several years.
By Invitation Only
Travel Sailing Team
Advanced sailors may be invited to the Travel Sailing Team mid-season or at the end of a session.
The Coaches offer an invitation to sailors who show the desire and talent to learn racing skills and techniques. Invitational sailors train on Optimist Class and 420 Class Sailboats. They prepare for and participate in regional and local regattas.
An intermediate sailor may be invited during the season to participate in a race clinic and/or regatta. These opportunities give the sailor, parents, and coaches an opportunity to measure the sailor's readiness level. If all are agreed, the sailor will be promoted onto the Sailing Team.
Match Race Challenge
Alternatively, a sailor can ask to challenge a sitting team member to a match racing series and win a seat on the team.
It is our organization's goal to have as many sailors as are capable and interested on the team, and we will do our best to expand our fleet if the need arises.
Extra help for members and non-members
Private Coaching
Private Coaching available for members and non-members on Opti, 420 Class, Hobie 18, Stiletto 27
Private coaching is a good idea if your sailor is not comfortable sailing solo in an opti or as a crew member in a 420 and/or when group learning is not ideal for your sailor's next step of learning. One of our coaches will spend 2 hours per session working to build confidence in your sailor. Sometimes, the program director may request that you sign up for private coaching if your sailor is not able to participate and learn in the group setting or is becoming a distraction to other sailors in group class.
Optimist
420 Class
Hobie 18
Stiletto 27
Coaching is available for adults and youth sailors on all the club boats. Please contact us if you are interested in sailing instruction while you are visiting Hatteras.