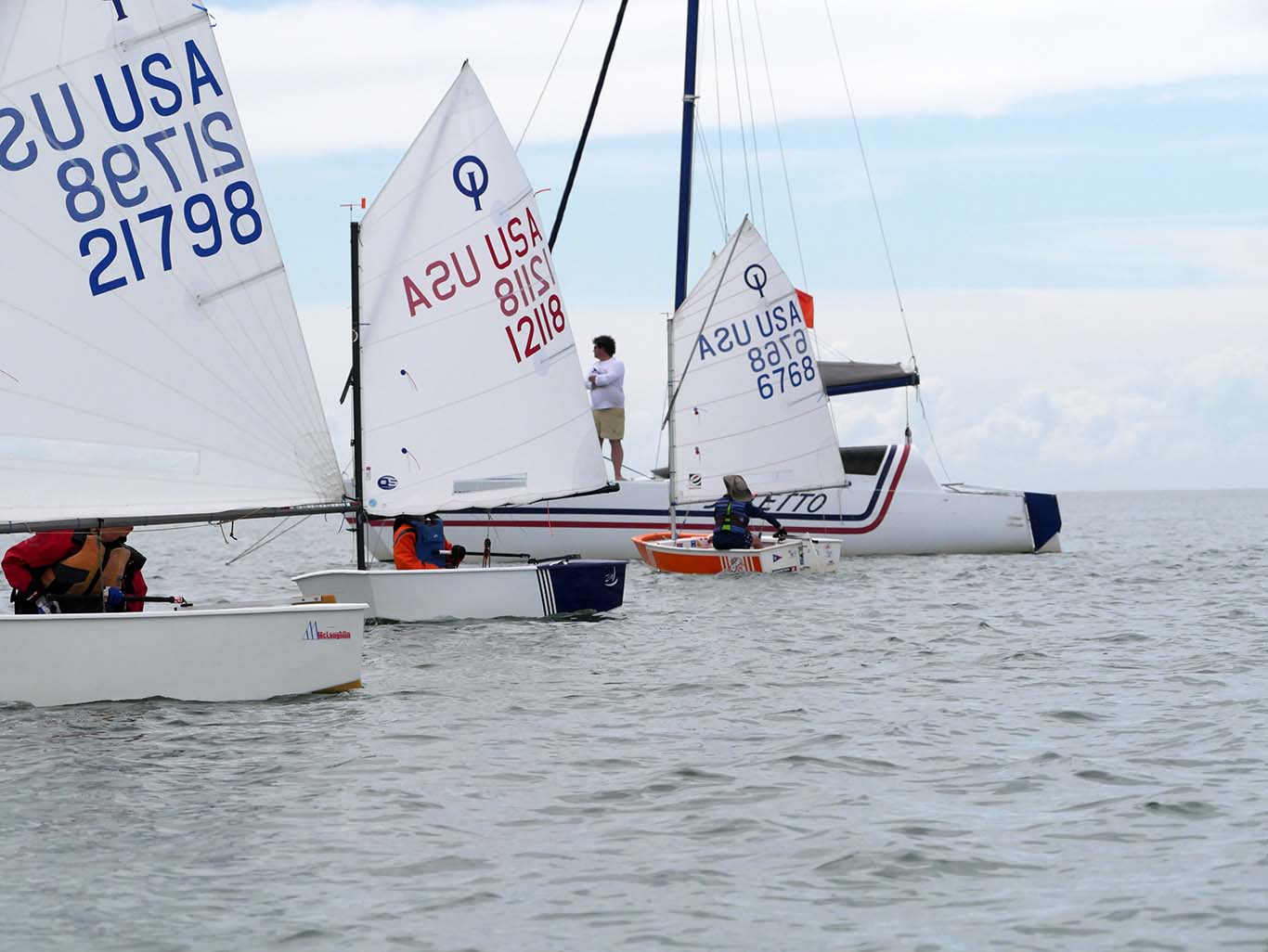 Registration: Junior Sailing
Summer II Registration has closed
Summer II Registration has closed
Registration for Summer II 2022 Sailing Classes was open through July 24th and has now closed. If you would like to sail in the Summer II session, please contact us via the forms below. This 6-week sailing session goes from now until school starts the last week of August. Registration is on a first come first serve basis and there are limited spots open for each level. A waiting list is provided on each level for additional interest.
For each group sailing class, we have a program plan that outlines what you can expect your child to learn and the types of activities that each week will cover. At some point, you may also be interested in individual lessons for your sailor if he/she is not keeping pace with the course. Member rates are available for private coaching and sailing group classes.
Which Sailing Class Is Right For Me?
Beginner Guppies: Beginner Guppies sailing is recommended for sailors ages 6-7 who are still learning fundamentals of boat handling.
Beginner Camps: Beginner sailing camps are recommend for sailors 8-12 and designed as a great way to level up boat handling skills in preparation for the Sailfish Opti Development Team. The goal of these camps is to master boat handling skills in typical Cape Hatteras conditions (12-15 knots sustained and gusting higher).
Sailfish Opti Development Program: Is for experienced Opti sailors 8-15 who have mastered boat handling skills in typical Cape Hatteras wind conditions, enjoy sailing fast, and who are interested in sailing competitively.
Wahoo C420 Team: All Sailors 12 years and older even if you have never sailed before should register for C420 Wahoo Team
Why do we encourage sailing competitively?
Competing in sailing is the best way to master sailing skills and gain confidence as your skills improve. The wind and waves are unpredictable. If you sail long enough, eventually you will be caught out in conditions that you did not expect or plan to sail. Competing in regattas trains sailors to push themselves and learn the skills needed to withstand sailing in a variety of conditions – high wind, low wind, high current, low current, familiar sailing grounds, and new sailing grounds. Competing in sailing is the best way to become a safe and confident sailor. We make lifelong friendships traveling to regattas sailing with other sailors. These relationships continue throughout a sailor's life.
Online Registration Forms & Fees
Opti Beginners
Beginner sailing is designed to build swimming confidence and comfort in the boats. We focus on fun age-appropriate activities and do not push the sailors too hard.
Beginner Camps Ages 7-12
Beginner Camps which are for older beginners under 120lbs – this is a good catching up option if you have friends who are already on the sailing team. One week intensive focused on fundamentals and boat handling. The goal is one or two weeks of this camp prepares you for the Opti Development Program.
Beginner Guppie Sailing Ages 6-7
Beginner Guppie sailing is an introductory program for little ones who are developmentally not quite ready for sailing independently. We double hand sail and focus on fundamentals and having fun. Once per week on Thursdays 2-5pm for six weeks until school starts.
Registration has closed. If you would like to join mid-season, please contact us through this form. There is a $80 per sailor fee that cannot be pro-rated.
Opti Development
For experienced Opti sailors who have mastered boat handling skills and are ready to level up. The development program is an invitation only program.
Sailors are invited to join the development team mid-season or at the end of a session. Coaches invite sailors who are committed to sailing and ready for development. The development team requires extra practice and a commitment to the program and the sport. Sailors compete in regional and local regattas.
Ages 7-15
Registration has closed. If you would like to join min-season, please contact us through this form. There is a $90 per sailor fee that cannot be pro-rated.
C420 Class Race Team
The C420 Class is for sailors 12 years and up who are either too tall or too heavy for the Optimist Sailboat.
The 420 Class is a two-person sailboat and the same class that is sailed in collegiate sports. This is the class that all high school aged sailors would train on whether they are beginner or more experienced. Both of our coaches sail this class in college. Our head coach has sailed in the national collegiate tournament for the past several years.
Any athletic and competitive young person growing up here on Hatteras Island can consider sailing as their sport of choice. Sailing is a lifelong sport even at its highest level of professional competition, and is a sport that our local geography supports in ways that give our local youth a competitive advantage. Our home, Hatteras Island, is surrounded by water and our winds are second to none. We have consistent and strong wind compared with places like Scandinavia, San Francisco, The Gorge, The Caribbean Tradewinds, etc.
C420 Summer II Registration has closed. If you would like to join mid-season, please contact us. There is a $80 per sailor fee which cannot be pro-rated
Cape Explorer Camp for Locals
Inspiring independence, seamanship, and respect for nature.
The Cape is surrounded with water, the Atlantic Ocean on one side and Pamlico Sound on the other, so our exploration takes us to the water! We use our sailboats and coach boats to take the kids to hidden bayside beaches bordered by beautiful live oak canopies, where they can play in the shallow water and learn out the sea creatures. This is a 5-Day camp from 9am-1pm. Bring a bag lunch. Taught by Hatteras Sailing Coaches Maq and Ian.
exploring
sailing
paddling
swimming
Ages: 11-16 years old (coed)
Where: Hatteras Sailing Center (old Fish House in Buxton)
Cost: $150 per child
When: Session 2: July 25-29th, Mon-Fi, 9am – 1pm
Extra help for members and non-members
Private Coaching
Private Coaching available for members and non-members on Opti, 420 Class, Hobie 18, Stiletto 27
Not sure sailing is your sport? Give it a try with private coaching.
Private coaching is a good idea if your sailor is not comfortable sailing solo in an opti or as a crew member in a 420 and/or when group learning is not ideal for your sailor's next step of learning. One of our coaches will spend 2 hours per session working to build confidence in your sailor. Sometimes, the program director may request that you sign up for private coaching if your sailor is not able to participate and learn in the group setting or is becoming a distraction to other sailors in group class.
Optimist
420 Class
Hobie 18
Stiletto 27
Coaching is available for adults and youth sailors on all the club boats. Please contact us if you are interested in sailing instruction while you are visiting Hatteras.
By Invitation Only
Is Opti Racing Team Right For You?
Intermediate sailors may be invited to the Opti Race Team mid-season or at the end of a session.
The Coaches offer an invitation to sailors who show the desire and talent to learn racing skills and techniques. Invitational sailors train on Optimist Class and 420 Class Sailboats. They prepare for and participate in regional and local regattas.
An intermediate sailor may be invited during the season to participate in a race clinic and/or regatta. These opportunities give the sailor, parents, and coaches an opportunity to measure the sailor's readiness level. If all are agreed, the sailor will be promoted onto the Sailing Team.
Match Race Challenge
Alternatively, a sailor can ask to challenge a sitting team member to a match racing series and win a seat on the team.
It is our organization's goal to have as many sailors as are capable and interested on the team, and we will do our best to expand our fleet if the need arises.
[contact-form-7 404 "Not Found"]
By Invitation Only
Junior Coaching
Private Coaching available for members who are experienced sailors, participate in regattas, and are on the race team
HATTERAS ISLAND YOUTH SAILING
Junior Coaching Program
By Invitation Only; Members Only
Junior Coaching is by invitation only and for experienced sailors. We reccommend that you begin volunteering as Jr. Coach by the time you are 14. The goal of Jr. Coaching is to learn and train to become a certified coach. This is a volunteer apprenticeship designed to train you to succeed once you are old enough (16) to enroll in the US Sailing Level 1 Instructor course. To become a certified US Sailing Level 1 Coach, you need the following skills:
Communication and interpersonal skills
Power boating skills including how to tow junior boats with coaches boat, docking, safe powerboat operation
Club 420 and Opti sailing skills
Your volunteer hours will be logged in the system as volunteer hours and sea time. If you've completed the equivalent number of volunteer hours at minimum wage, Hatteras Community Sailing will reimburse you for all expenses associated with getting your Level 1 instructor certification once you turn 16 years old.
You will also be enrolled in the Charter Crew rotation which is not paid, but earns good tips. Charter captains 'tip out' the mate. These hours are also logged as sea time.