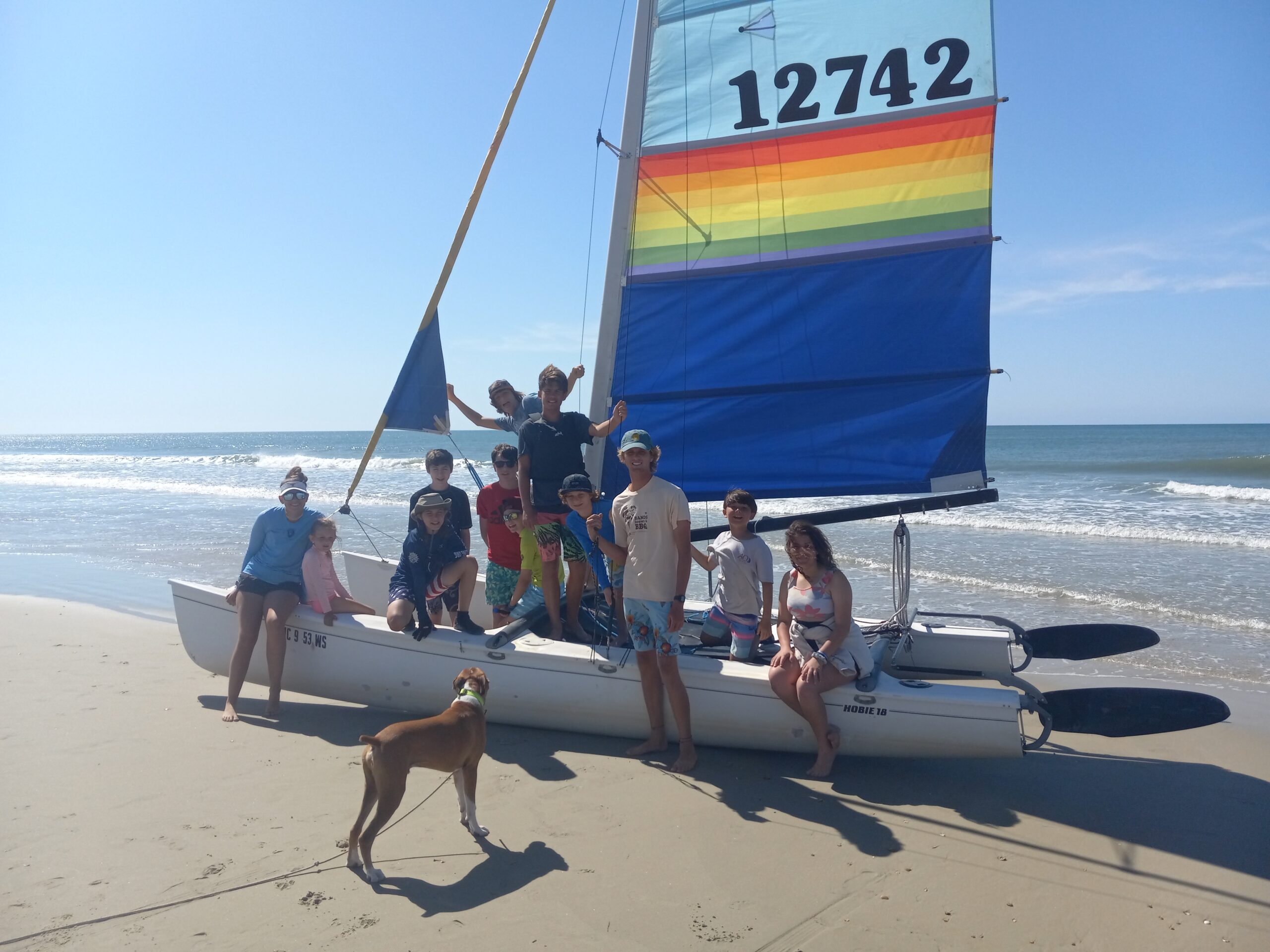 Cape Explorer Adventure Camp
An adventure on the water with exploring, boating, and fun.
Kids explore the hidden bayside beaches bordered by beautiful live oak canopies, where they can play in the shallow water and learn about the sea creatures. Cape Hatteras is surrounded by fabulous habitat for exploration bordered by the Atlantic Ocean and the Pamlico Sound. Make friends and go exploring.
Exploring
Swimming
Paddling
Sailing
Boating
Fun
Ages: 6-17 years old (coed)
Where: Hatteras Sailing Center (old Fish House in Buxton)
Cost: $359 per camper
Space Limited: 8 Campers per week
Led By US Sailing Certified Coaches
Our Camp Instructors are US SAILING Certified with safety and first aid training. Each of our coaches sailed for their college sailing teams and have experience as junior leaders in local community sailing programs.
An Emphasis On Safety And Fun
Trained in first aid and safe boating, our coaches focus on teaching the campers how to boat, swim, and sail safely and confidently. Personal Flotation Devices are required.
What to wear? What to bring?
WET & DRY CLOTHES: Please wear boardshorts and a quick-dry rash guard shirt or a swimsuit with shorts and a tee shirt over the swimsuit. We will do on-land and in the water activities each day so you want to be comfortable swimming and drying off and playing in and out of the water.
WATER SHOES ARE REQUIRED. Please wear water shoes, sailing boots, or surf booties each day to protect your feet from oyster shell cuts.
Please bring the following each day of camp:
lunch
refillable water bottle
sunscreen / hat
sunglasses
life jacket
**NOTE: if you do not have a life jacket we can provide one.
Cape explorer camp is a well rounded and fun exploration of some of the wonderful sites, nature, sports, and history that we all love about Cape Hatteras. From the Shipwreck Museum (as a good alternate indoor activity in bad weather days) to the Clam Shoals just a few mile out in the middle of Pamlico Sound. We can get to the North Side of Ocracoke to explore the rather untouched beaches along Hatteras Inlet. Catch and release some Blue Crabs, Ghost Crabs, and Sea Clams!
Bad weather, no problem! On rainy or too windy days the coaches have alternate educational fun planned.
Example Schedule
9:00 am: Parent drop-off
9:15 am: Arrival and greetings followed by a safety briefing and overview of today's activities. Coaches review learning from the prior day's adventure
10:00 am: Board the Stiletto Catamaran and the Coaches boats and take to the bay. Explore the clam shoals, search for crabs, dig for clams.
12:00 pm: Start heading back to the sailing center for a chalk talk review of the day's fun and learning while the kids eat their bag lunches.
1:00 pm: parent pick-up
Where to drop off? What time?
TEXT MESSAGE NOTIFICATION: Each evening before camp, our instructors will access the weather and send out a notification from our official Hatteras Sailing Team Text number (252-999-9659) with the drop off location. Depending on the wind and waves, we will select one of these camp activities – some of which require drop off in a location other than the Hatteras Sailing Center.
DROP OFF AT 9: Regardless of where the drop off point is, drop off is at 9am. Please do not drop off early. Our coaches will be at the drop off location from 9 to around 9:15am before they begin the activity.
Register Online
(Space is limited to 8 campers per week. First come first serve)
Hatteras Island Locals Weeks
Same camp, half the price.
Inspiring independence, seamanship, and respect for nature.
Two weeks per year, we reserve all 8 spots for local Hatteras island residents. This is a great introduction to the fun we have all year long in the Hatteras Community Sailing program. Come and join the fun with friends you know from baseball and school.
Ages: 6-12 years old (coed)
Where: Hatteras Sailing Center (old Fish House in Buxton)
Cost: $150 per child (residents only)
Cape Explorer Adventures
Each day, based on the weather, our coaches will choose from one of the following activities. The only case where camp would be cancelled is if we have prolonged lightening. Cape Explorer camp is an outdoor camp, and we can find fun active adventures on most any type of day. We add to these activities from time to time.
Camp Gallery June 13-17