Published: Wed, Sep 22, 2021 by Meg Phillips
This plan was published based on the current wind prediction of speed and direction as to get the 420s up in the protection of the clam shoals Saturday morning. The wind is predicted to lighten up a little before the Opti racing begins late in the schedule and we hope to move the course closer to shore.
Spectators are not likely to be able to paddle out to the arena given the current prediction. We will have three multihulls available for spectators at the arena 1) Committee boat Stiletto 2) Spectator Stiletto 3) Spectator Trimaran. Hatteras Sailing has arranged for two powerboats that can ferry spectators to and from the arena.
As always, this plan is subject to change based on weather prediction.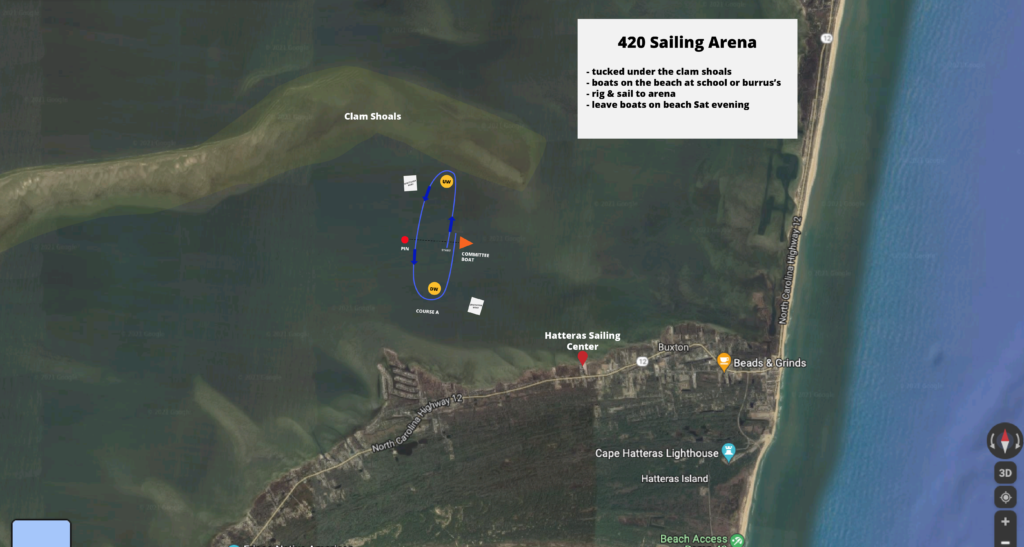 420 Green
The race committee are going to tow the boats out to the beach before the racing begins
Skippers and crew will be taken out to the beach via powerboat
When you arrive at the beach, please set up your sails and rig your boats and sail immediately to the arena for the first race to begin.
We will be racing a long course A. Based on the wind prediction, the racing will be fast and we will go around the upwind mark, the downwind mark, and finish upwind.