$250 Cash Prize to the winner!
Science, Technology, Engineering and Math can all come together for Hatteras Islanders this September in the form of a Homemade Boat Race ! Any age can enjoy the challenge, but the bigger and heavier the competitor, the harder the challenge naturally becomes! Do you have what it takes to be a Hatteras Island Boatbuilder? Give a try! Have fun!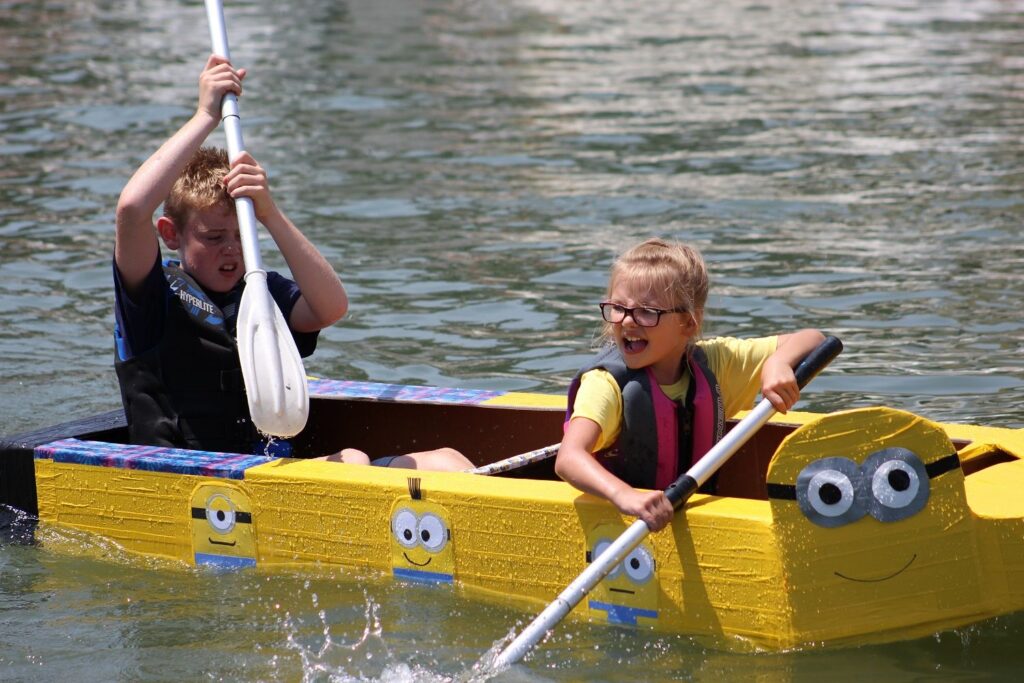 Here are the details !
Competition Date and Time – Saturday Sept 24 at 4 pm, Frisco Woods Campground Waterfront.
The Challenge: To finish and win the race without sinking
The Rules: No wood. No fiberglass. No epoxy. No metal alloys. No age limit. No limit on team size. Competitors are subject to basic inland navigation and safety rules. The water depth will be no more than 2 feet.
If your boat crumbles you have to clean it up… no litter!
Participant Registration: $25 per entry no later than 5 pm September 20
In addition to the race winner, there will be auxiliary prizes for the following!: Best Looking Boat; Design Innovation; Best Team Effort; Most Entertaining; Safest Boat…. etc.
Tips for those who want to WIN!
Finishing without sinking is vital! Your construction must withstand water for longer than the race lasts.
Stability is important! Click here for Stability Tips!
Speed is important! Click here for Hull Speed Tips
Steering is important! Good boats track and can be easily steered. Click here for Directional Tips
Resistance is a Drag! Fast boats have lower drag. Click here for tips on reducing drag!
Seaworthiness can be a big factor. Click here for tips on seaworthiness!
Safety is vital! Click here for safety tips.
Encouraging Event Sponsors to Participate!
Hatteras Sailing is committed to encouraging and nurturing future generations learning of maritime heritage, trades and vocations. Eastern North Carolina is rich in boatbuilding history and heritage. If you are a boatbuilding enthusiast, or even more pertinent, the owner of a boatbuilding business here in Eastern North Carolina and the Outer Banks, please consider becoming involved as a sponsor for the annual traditions and heritage events we are endeavoring to encourage here on Hatteras Island. This simple and fun family and community event is intended to bring different boating interest groups together…. sailors, powerboaters, sportfishing, and commercial fishing all depend and can thrive if future generations take an interest in the trades that support these industries. The simple act of building a cardboard or paper boat incorporates several technical and craft skills involved in boatbuilding. The winner of the event will likely be the one who put in the most research, planning and execution. Those who don't do well will learn valuable lessons! Boatbuilding has always been a trial and error type of trade, so they will be better prepared for next years event. Help us try and find ways to grow youth interest in the sea! Thank you!