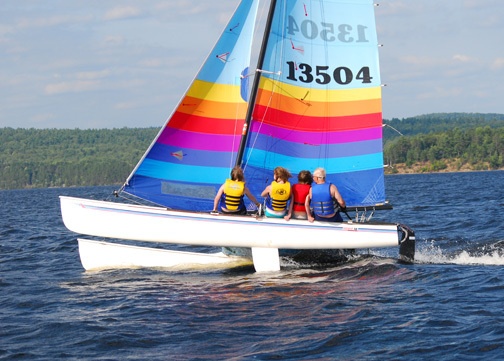 Hobie Catamaran designs have made an indelible mark in the history of beach cat sailing worldwide. Phillips Boatworks is excited to have obtained and commenced the restoration of 4 classic Hobie 18's to be offered as a part of the Hatteras Community Sailing Juniors Program.
About the International Hobie 18
For our ambitious youth from 11 – 18 years old and adult sailors interested in learning or using the Hobie 18's, please take some time to learn about the boats. More information is available about the boat and class association at the North American Hobie 18 Class Association.
To get more in depth here is a link to the User Manual for the Hobie 18. These are larger and much more complex high performance catamarans, the predecessor chronologically to the Stiletto 27's we offer here in Avon for Sailing Charter Adventures, which was developed by Bill Higgins, the Hobie SE Sales Representative in the 1970's. Hobie 18 Catamaran Manual
Hatteras Community Sailing decided to adopt this class of catamaran into our fleet because they are relatively accessible and inexpensive, high performance, fun, exciting, smoother riding and large enough for adult instructors to be on board with the junior sailors and adult sailing students. Because it is one of the most versatile catamarans built, we can also utilize these boats for the following purposes.
High Level Junior Sailing Training
Adult High Performance Multihull Training
One design multihull competitions
Club member use – additional fees may apply
Sailboat Rentals – Boats can be rented for fundraising
High Performance Sailing Lessons for Island Visitors
To stay in the loop on the progress of the Hobie 18 refurbishments being done at Phillips Boatworks, check in on our Facebook Page, "Hatteras Sailing Organization" and check in on the Phillips Boatworks Website (phillipsboatworks.com)
Updated 03-21-2021