Dockage available in Buxton on Hatteras Island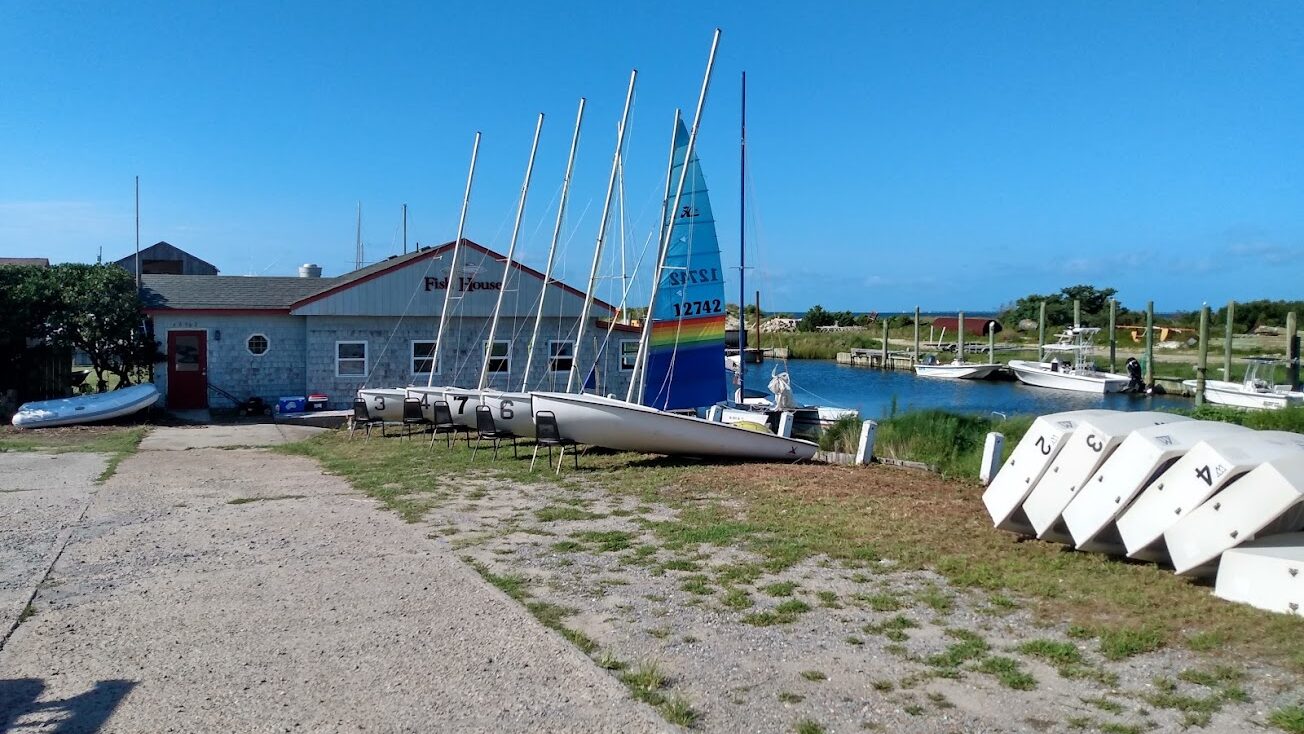 Boat slips available now for monthly and weekly rental
Organizers of the Hatteras Community Sailing Program have arranged to purchase the old Fish House Restaurant Property in Buxton! Anyone who lives in Buxton can attest that this is property that needs a lot of TLC. Hatteras Sailing will start by upgrading the docking characteristics on site so that nice boats can feel safe docking around the property. It is pretty shallow and work will be ongoing as money and permit processes sort themselves out, but if you have a boat and are looking for dockage, this might be a nice place to consider keeping your boats.
Member Discount for Hatteras Sailing Members
Hatteras Community Sailing is a Non Profit Member and Sponsor supported organization whose objective is foster a passion for the Sea with local youth. This is supported by local, NRPO, and Non Resident yearly membership fees as well as donations and sponsorships. Dockage at the property is also one way that helps us pay for and be able to improve the property to this end. Local Yearly Resident Memberships are $100 per family. NRPO Yearly Memberships are $500 and Non Resident Memberships are $1000 per year. Members get discounts and cost free benefits, one of which is decrease dockage and boat ramp fees.
Dock Improvements on the Way!
Docks and Bulkhead Dockage is very limited by space. We are committed to improving the docks, bulkheads and services to the docks over time. By Memorial Day 2022 docks will have padded pilings, metered electrical service and metered water hookups. Boardwalks and fill dirt is expected to be added to level out the ground where flooding over the years has shifted things around a bit.
Member Rates
Ramp Fee – complimentary **
Annual Dockage Rate – $10/ft/mos
Month to Month Dockage – $20/ft/mos
Summer Dockage Rate – $16/ft/mos
Winter Dockage Rate – $8/ft/mos
Water Meter Rate – $0.05 per gal **
Electric Meter Rate – $0.01 per KWH **
Proof of Insurance Required
Non Member Rates
Ramp Fee – $30 per use ***
Annual Dockage Rate – $20/ft/mos
Month to Month Dockage – $40/ft/mos
Summer Dockage Rate – $38/ft/mos
Winter Dockage Rate – $16/ft/mos
Water Meter Rate – $0.10 per gal **
Electric Meter Rate – $0.10 per KWH **
Proof of Insurance Required
Commercial Fishing Discounts Available. Call to discuss. 252-489-8193
** Prices subject to change at any time at management discretion
*** Boat Ramp Use is restricted to times when youth programs are not happening