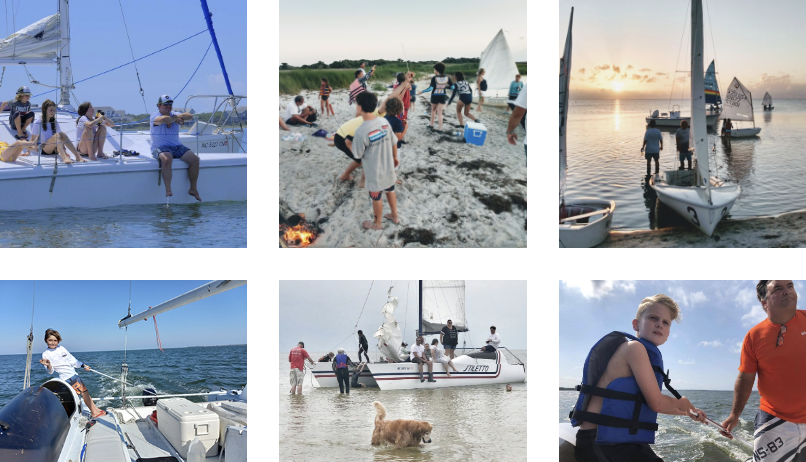 Starting out the season with a club tradition – sailing to Canadian Hole
Party starts at 2pm and goes until….but if you sail your own boat you MUST sail it back to the club! Some of the club members, parents, and kids will drive to the beach and set up tents, snacks, music, and fun.
Kick off Island party! This Friday, June 17th, 2-5 at Canadian Hole. There will be a few options on how to get to the party. If the kids are on one of the race teams and can confidently sail by themselves, they can sail to Canadian Hole. For our beginners and families, there are a few options. First is riding on one of our catamarans. If you want to sail over with us, please reserve a seat, as space is limited. The second option is to meet at Canadian Hole.
WHAT: Island Party
WHEN: Jun-17th, 2-5pm
WHERE: Canadian Hole (by the bathrooms)
---
IF YOU WANT TO SAIL TO CANADIAN HOLE -> you need you to register for the boat you want to sail on so that we don't overload the boats. No cost, but we need you to reserve your spot. We plan to take as much of the fleet as we ca. DO NOT BE LATE! We will leave the dock by 2:15 at the latest.
IF YOU WANT TO SAIL YOUR OWN BOAT -> If you are an experienced Opti, Hobie, or 420 sailor we invite you to sail your boat to the party so that others can play with the boats once we are there BUT you must bring your boat back before dark. Coaches will begin the trip back promptly at 5pm and you must be with them!
IF YOU WANT TO DRIVE AND. MEET US THERE -> Our plan is to leave the dock at 2pm. It will take around 30-45 minutes to sail over there depending on the wind. Take lots of photos. Its really pretty to watch the fleet sailing up to the beach!
Once we are at Canadian Hole, we will have drinks, snacks, games, and lots of fun. This will be a great way to kick off the summer! Coach Mak will also be hosting a parent meeting on the expectations and how to be the best sailing parent you can be for your kid!