SATURDAY SAILING TIME MOVED TO 2PM!
With a little twist
The Graveyard Beach
Last week, we sailed out on Stiletto with the optis following. We went to the little beach just around the corner south of the canal.
This week, the plan is to explore the Graveyard Beach which is just a little farther south after we exit Mill Creek. The wind is supposed to be light. More advanced sailors will sail optimists and beginner sailors will be assigned on the Stiletto with parents and Coach Jay.
Weather Update
The weather is likely quite nice on Saturday. Sunday shows higher winds, but decreasing through the day. Our hope is that we will be able to sail on Sunday, but just in case, we have flipped the groups. Last week, the Sunday group was not able to go sailing at all. That group is moved to Saturday this week to make sure they make it out.
**As always: if this doesn't work for you, just text Coach Jay at 252-999-9659 and I am sure we can accommodate you.
** Please: If we left you off either list, please do not be upset, just text us which day works best for you.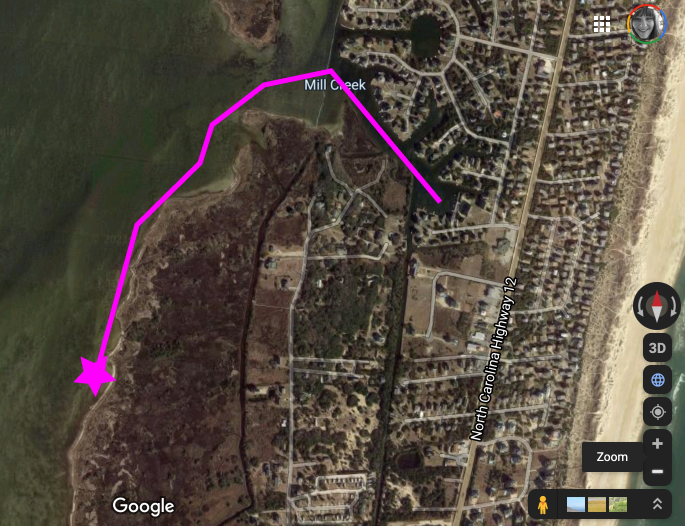 2pm Saturday Group
| | |
| --- | --- |
| 2pm Saturday | |
| Opti | Stiletto |
| Noah Phillips | Ella Quidley |
| Marilyn Mack | Anne Mitchell Snead |
| Claire Mack | Ella Snead |
| | Nancy Snead |
| Beau Phillips | Rory Quigley |
| Conner Hakola | Joey Lettieri |
| Gilliam Shisler | |
| Evan Hakola | |
Saturday May 1st, 2021
1pm Sunday
| | |
| --- | --- |
| 1pm Sunday | |
| Opti | Stiletto |
| Ellis Gaskins | Neimiah Crum |
| Nova Forman | Amos Fulcher |
| Beau Phillips | Anders Vetter |
| Conner Hakola | Hunter Everheart |
| Noah Phillips | Elle Everheart |
| Max Syrrist | |
| Annie Peters | |
| Noah Hammack | |