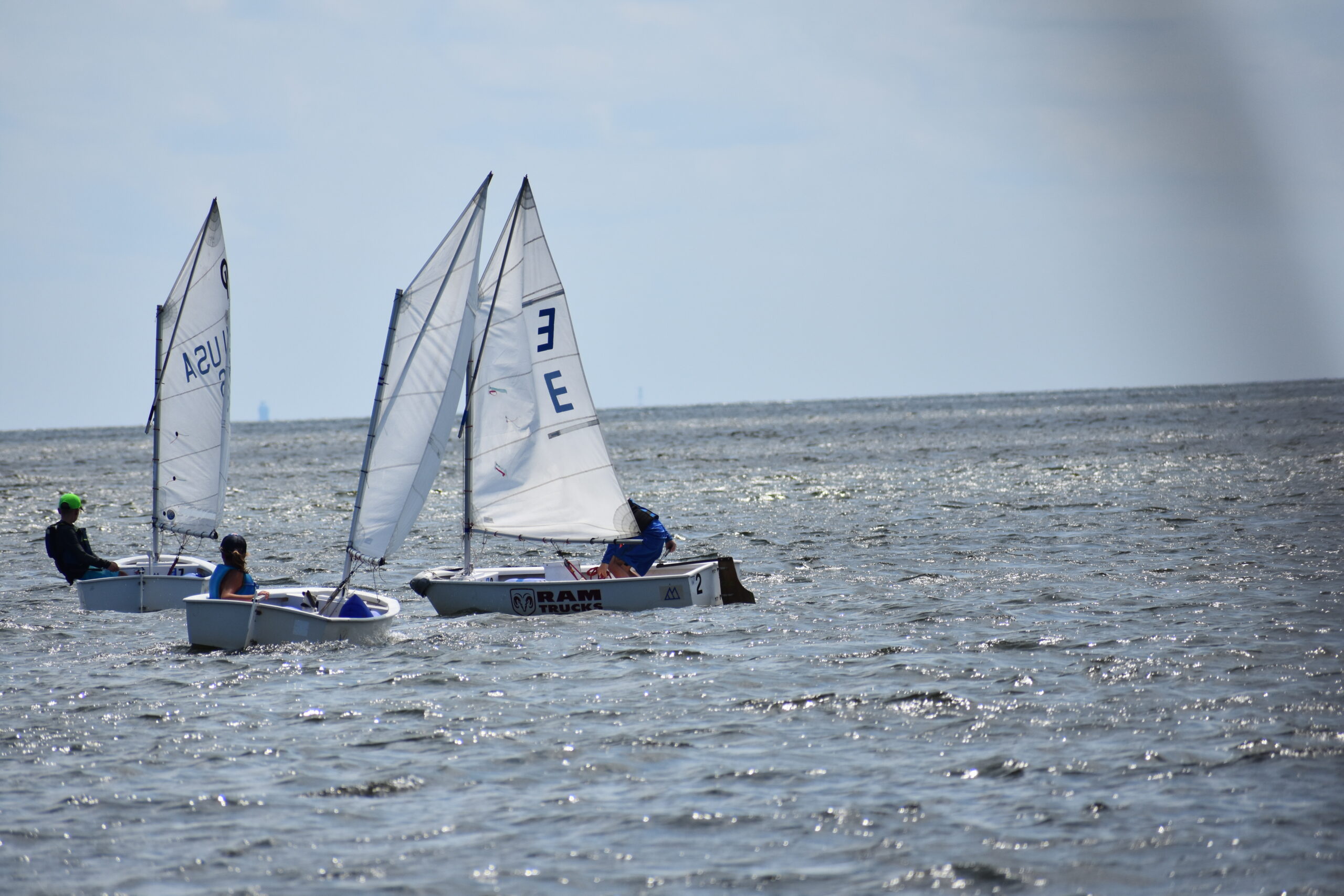 Why does Hatteras Sailing sail the Optimist Class?
The Optimist Class sailboat has been the standard for youth and junior sailing programs for decades. The class was launched in 1947, and has a long history as the training boat on which the world's best sailors learn the basics. The boat was designed and first built in Clearwater, Florida but quickly traveled to Europe and throughout the world. The International Optimist Dinghy Association (IODA) was formed in 1965 and remains one of the most active racing classes in sailing. There are many reasons for a juniors program to adopt the Optimist Class as the training boat for young first time sailors.
Optimist is a deceivingly humble class. An uninformed observer may look at an optimist and see a little kids pram, but an optimist is a fairly high performance little dinghy, and the rigging is cleverly adjustable. From that angle, the Optimist is the unsung hero of junior sailing, and just skirts the line between safety, simplicity, and performance.
Hatteras Sailing chooses to sail the optimist for the same reasons thousands of other sailing and yacht clubs worldwide:
Availability of boats, gear, and competition
Sailboats are expensive. They are expensive to own and expensive to maintain. For a community sailing program, like Hatteras Sailing, it is a prudent decision to choose a boat that is very popular with a long history. This means there is a larger market of used gear and boats which is more affordable for a community supported program.
Many opportunities for racing locally, regionally, nationally, and internationally
Because the Optimist Class has such a long and well established class association (IODA), there are many more opportunities to sail against other competitive sailors in an Opti versus other training dinghy designs. Optimist is just the standard worldwide. If any of our sailors show exceptional talent, more opportunities for more competitive racing helps our club develop that talent.
It is ideal for a sailor to remain in the Opti class as long as physically possible.
The IODA allows sailors to remain in the optimist class up to 15 years of age. The relative simplicity of the Opti class allows sailors to focus on understanding the fundamentals of sailing – wind, current, physics, weather, and the physical and mental multitasking required to make expert sailors. The competition is intense, worldwide sailing opportunities are prevalent, and the sailors learn and practice racing tactics and strategies becoming experts at very young ages. By the time a sailor is ready to graduate Opti class, these fundamental skills should be well developed allowing the sailor to transition into team sailing and more boat complexity on a strong foundation of more fundamental skills.
What gear and equipment does an Optimist Class sailboat need to be competitive?
There is a fair amount of gear an Optimist sailor needs for his/her boat to be legal for racing, but also to be competitive. In this article, we are going to outline the rigging and gear. There many other accessories such as watches, wind instruments, etc which are legal in racing that are not particularly unique to Opti sailing and, while nice to have, those will not be covered here.
Optimist Boat & Gear
Hull
Dolly
Tiller and tiller extension
Daggerboard
Spars: mast and boom
Sails
Floats
Bailers
Straps

Mainsheet blocks and rigging

Windex

Tell Tales

Sail ties

Bow line

/Painter
Daggerboard securing bungee & rigging
Personal Gear
Life Vest
Dinghy Sailing booties
Good watch with timer
Hatteras Sailing currently only has one dolly which we share among all 8 of our boats. Within this fall season, it is our goal to raise enough funds to have a dolly for each boat. Our team also needs a travel trailer which will hold all of our competition Optis, gear, dollies, and rigs.
How much does it cost to buy and equip a new Optimist Class sailboat to perform at the highest level?
A brand new Pro Level Opti equipped for international level racing with a full set of gear and accessories can be purchased new for around $5000. Club level boats can be found for less and the largest manufacturer also sells re-certified refurbished hulls in good as new condition.
A sailboat "class" is a written specification agreed and maintained by the sailors of the class. Most sailboat class associations will allow any builder to manufacture to the class standard, and provide certification services to builders who wish to produce sailboats for the racing class. This is true of the Opti Sailboat Class.
There are many manufacturers for the Optimist class, and the competitive differences between boats are fairly minimal. However, the gear, sails, and rigging can be a significant difference to a sailor's performance. Currently, our club has a set of 7 borrowed optimists that belong to the Colington Yacht Club and most were built by McGlaughlin.
Many clubs build their own Optis and request a certification of their boats. There are advantages to a 'build your own program'. Clubs may choose to build because it offers a significant bonding and educational experience for both the parents and sailors. An Opti can be built in wood or in fiberglass. If you build an Opti from fiberglass, it is helpful to have a certified mold and then each boat is racing class. The builder of the mold gets a manufacturer's certificate and issued a builder number, etc.
Owning your gear and accessories
Our club has a set of 8 hulls (7 borrowed, 1 owned) in pretty good condition and well maintained. Our club eventually does need to purchase its own boats.
Currently, sailors in the Hatteras Sailing program do not need to buy a boat to participate or to be competitive. However, as our sailors improve and succeed in regional racing, having a really great boat that belongs to you is something that every competitive sailor eventually wants. Sailboats like Optis resell for pretty good value. A great Opti purchased for $5000 may sell in 7 years for $2500 – $3000.
When a sailor makes it onto the Hatteras Sailing Invitational Team, they earn the right to choose a club hull and label that hull with their own name. In essence, for as long as they remain on the team, that boat is assigned to the sailor, and that sailor should race, equip, and maintain that the boat as their own.
Equipping your boat
There is considerable wear and tear on gear that is used during practice, etc, and keeping a secondary set of gear preserved for racing is a good strategy. This could mean purchasing or making your sailor a new set of racing sails, boards, rigging, and even spars that they only use for racing.
Any personally owned racing gear belongs to the sailor and is not used by other club members during practice or scrimmage. It can be kept at home and preserved in good condition. Accessories and gear can be augmented and improved by the sailor's family, preserved in very good racing condition, and sold later to another sailor. All our invitational sailors are invited to have their own gear, but not required to do so.
---
Article References & Links