Practice is July 4, 9:00 am to 1:00 pm for Advanced Sailors
Time is passing fast so its time to dial it in, so you can get the most out of the Summer Session! Here is what we have in store for 4th of July Weekend. Don't forget to try and get your own digital watch for start timing. It is HOT out in July, so we will do some swimming and capsize training, so wear your swim suits, sunglasses and sunblock. Also please wear foot protection.
Remember what's important – Hatteras Island Sailors have every opportunity now with this program and the natural geography and weather Hatteras Island to become GREAT Sailors and Watermen. But it does take consistent effort, good attitude, coaching and access to competitive opportunities.
Name and Own Your Own Boat !!!!!!!
Head over to Ace Hardware and get the Black 3″ Stick on Letters for your Last Name. Syrrist, Phillips, Hakola, etc. so you can label the boat you will use for the rest of the Session as your boat. Part of being a great competitive sailor includes being a good rigger and able to optimize your International One Design Optimist to perform to its very best while you are sailing. For a little boat, it has a long list of items that have to work right. To start with this week, we are going to look closely at some primary parts to focus on getting right for your boat.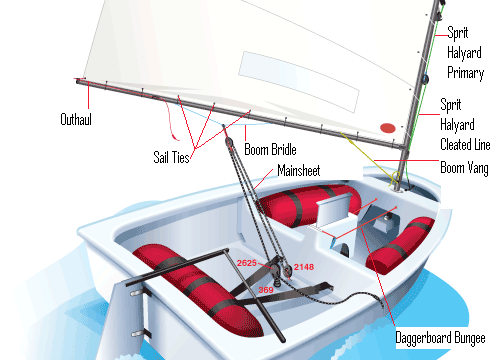 Main Sail Ties – to the boom and the mast
Boom Bridle and Mainsheet
Daggerboard Bungee
Sail Battens and Sails that are not too worn out
Sprit Halyard Cleated Line and Primary
Boom Vang
Rudder, Tiller and Tiller Extension
Mast and Boom – Masts and Booms need to be straight and we may change some of the old hardware and cleats out with improved parts if needed.
Longer Practice Times
Advanced Sailing is going to increase its weekly training time to 4 hours on weekends. This Sunday at 9 am we will practice from 9 am to 1 pm. It is 4th of July day, so please confirm with your team captains Noah Phillips and Joey if you are going to be able to make it.
Good Attitude
Please remember that your coaches are volunteering their time and resources to offer you this opportunity. In general, poor attitudes will not be tolerated on the Advanced Sailing Team. Please get your head straight before you show up. Be ready to work hard, practice hard and learn a lot. Coaches will not tolerate poor attitude bringing the rest of the group down.
Agenda for Weekend 3
We will be focusing again on the Start Line, Starting Techniques, and getting good starts. We will be sailing the course more after our starts and teaching about upwind sailing and sailing for speed. Please don't forget the basics from last week. If you did not attend last weeks sessions for whatever reason, you will need to work harder to catch up to those who did. Ask your coach if you can practice during the week to catch up if you missed your weekend class. You will get out of this what you put into it!
Away Event – July 9-11 Chesapeake Regional Junior Olympic Festival
The Phillips Family is going to attend this. Admission is $80 per person, for those who want to participate. Rarely is this as near to Hatteras as this year in Hampton Roads. We will be happy to take team members with us and we encourage you to come with your whole family, because it is a fun event and great learning experience. There is more information on this on our website. Kids who attend this will likely either get really excited about competitive sailing opportunities or quickly figure it out that this is not for them.